The Story of Legendary Sword Fisherman Ted Naftzger, Jr.
By Gary Graham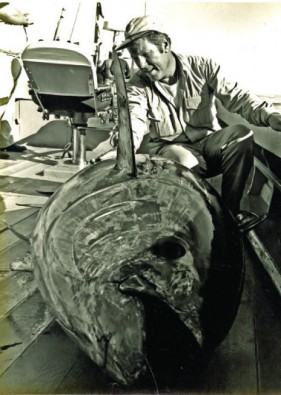 Men often fight monsters, both in fairy tales and in real life … sometimes by fate and sometimes by choice.
R.E. (Roy E.) "Ted" Naftzger, Jr. and the monsters he chose as adversaries were swordfish in Southern California, black marlin at Lizard Island and giant bluefin tuna on the East Coast.
A California native, Naftzger graduated from Stanford in 1946, received a degree in history from the University of Southern California in 1948 and ultimately a master's in 1986. A cattle rancher, as well as a highly respected numismatist of some 60 years and a world-class angler, he passed away on Oct. 29, 2007. He was 82. Naftzger was survived by his wife, Pauline; three daughters, Natalie Davis, Sandra Dritley and Nancy; plus six grandchildren.
His contributions to recreational angling were extraordinary. He was inducted into the IGFA Hall of Fame, was an IGFA trustee from 1979 to 2002 and served as IGFA board secretary from 1986 to 2001. In 1994, he received IGFA's Elwood K. Harry Fellowship Award in honor of his lifelong contributions to recreational angling.
He still holds a Tuna Club record set in 1970 for a 503-pound broadbill swordfish on 80-pound Dacron line, and he remains in the record books in Massachusetts for a 131-pound white marlin caught off Nantucket in 1982. Naftzger was president of the Tuna Club of Avalon, and was a founding member of the Channel Island Broadbill Tournament as well as the Lizard Island Fishing Club. He was a member of the U.S. team at the International Tuna Cup Matches from 1967 to 1970, capturing first place twice.
And though Ted Naftzger has successfully fished for exciting game fish all over the world, spending many seasons on the Great Barrier Reef, it's his sword fishing skills that are legendary. He caught 49 swordfish on  California boat or crew, let alone single angler, who managed to accomplish such a feat. However, one man, Roy E. Naftzger, Jr., or "Ted" to his friends, did just that.
"I remember Ted as the ultimate gentlemen's gentleman," said Michael Leech, IGFA executive director from 1983-1993. "He was definitely one of our sport's true legends. Once we lost Ted, the art of surface sword fishing seems to have been lost. His kind of sportsmanship is hard to find in this day and age. I miss him."
Naftzger's angling accomplishments aboard his Rybovich locally, as well as internationally, are remarkable examples of tenacity and dedication to his sport.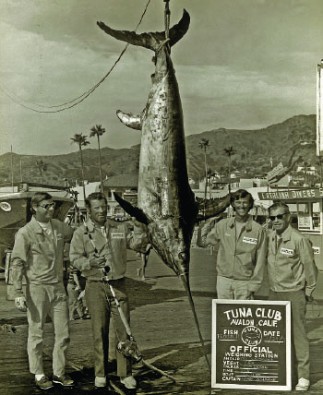 It was more than a half-century ago when he purchased his first Rybovich and his passion for catching swordfish on rod and reel began. Shipping her to Los Angeles, he renamed her Hustler and hired Captain Art Cherry to run her. At that time, most West Coast anglers ignored swordfish, preferring less difficult, more common, striped marlin. However, his new captain possessed extensive knowledge on baiting broadbill on the East Coast; Ted Naftzger decided to apply similar techniques in the Pacific and the rest is history.
Beginning in 1963 until he stopped his quest, he baited those 49 swords on the surface, catching this most difficult saltwater sportfish during daylight hours, earning him the title of "Master of Daytime Sword Fishing." To Naftzger, sword fishing was a passion, and he had few peers in this often humbling and frustrating sport.
Speaking with his friends, associates, peers, and admirers not only provided a glimpse into Naftzger but, on a grander scale, a subtle overview of the anglers, techniques and resources that existed in an era that many claim is lost forever.
When Naftzger, along with Al Carlton and Jerry Garrett, teamed up with Bud Smith (Mr. Oxnard) to put on the first Channel Islands Invitational Broadbill Tournament in 1972, the first year's statistics reflect what an immense fishery it was compared to now. Results included reports of 300 broadbill spotted, more than 75 baited and approximately 50 hooked up. Yet only 16 swordfish were landed, the largest weighing 454 ½ pounds.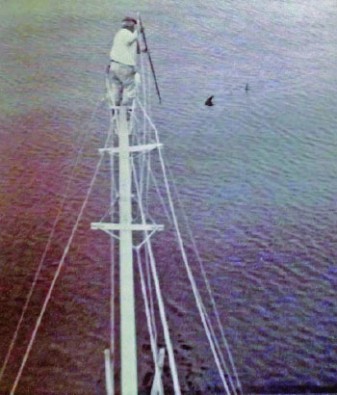 The swordfish was notoriously difficult to tempt with baits on the surface and extremely hard to hook; when hooked, its strength, determination and fury are legendary. Stories abound of anglers battling swordfish for entire days and then of it turning mid-fight and attacking boats. Naftzger's passion for swordfish grew precisely because of the degree of difficulty and challenge of the fight. These were the things that legends were made of.
He ran a no-nonsense operation with little radio chatter and he seldom invited anyone aboard his beloved, very-fast, gas-powered, 37-footer. Cherry, his captain for decades, and his crew always wore khaki uniforms. It was as though they were dressed for battle. Single-purposed, he ignored marlin for the most part, often calling one of his friends close by if his crew spotted a marlin.
Though his close friends understood his intense determination, some of his contemporaries were confounded over the years by his passion for privacy. Many revealed their ignorance of the man, preferring to use a variety of adjectives describing him as a loner, aloof, odd, interesting and unusual.
Shy, he seldom shared his on-the-water adventures with outsiders, preferring to save those stories for the close circle of fellow fishermen he admired. He reveled in their fishing conquests and many still have cherished personal hand-written notes commending them for their angling accomplishments.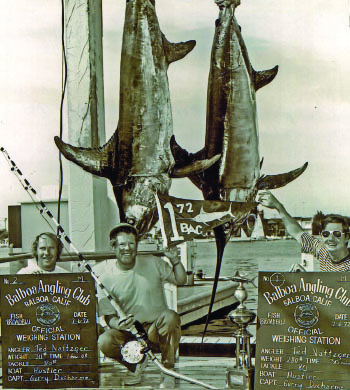 After a day of fishing Southern California waters, Naftzger often stayed on a mooring at Avalon. He would visit the Tuna Club, going upstairs to his favorite corner room overlooking the harbor, preferring not to mingle. Naftzger jogged daily whether from his home in Beverly Hills or in Avalon, often before departing for the day's fishing.
Always prepared, he had several sets of Daytona gasoline engines stashed in three different ports in case the Hustler's failed. He did not want to miss a day's fishing.
Once, Naftzger spotted Don McPherson, who was alone aboard his Boston Whaler on the 499, hooked up to a two-finner. Naftzger immediately ran to his friend, remaining with him for hours until the foul-hooked fish unfortunately pulled free.
The last time Dave Denholm, friend and fellow Tuna Club member, spoke to Naftzger was when he caught his 452.5-pound sword near the 499 one morning; this is the standing California State Record. Apparently records were not being maintained during Naftzger's earlier accomplishments.
Dave proudly admitted, "My first call from the Espadon was to Ted at his office in Beverly Hills. He graciously congratulated me and wanted to hear the blow-by-blow details. I felt I wanted to talk to Ted at that moment as our 'sword' bond was truly a rare link of mutual respect for an unusual passion and sharing that success with my mentor seemed essential. Ted followed up with a congratulatory long-hand note as was his custom."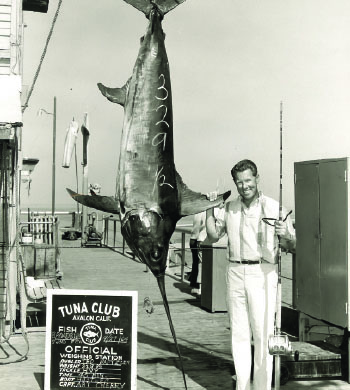 Jerry Garrett, another friend and Tuna Club member, proudly displays a similar note in his trophy room in New Zealand!
Every November, Naftzger would journey to Cairns, Lizard Island, Australia, to fish for black marlin. Over the years, he and his friends caught and released many "granders."
Denholm recalls those trips fondly. "Both of us had a number of 'granders' to our credit and another friend, Kay Holland, caught one on 50-pound test line. He also fished Ted's other boat in the Azores with great success."
As Naftzger's swordfish count grew, speculation of his methods and techniques grew among Southern California anglers as well. As is often the case, the conjecture exchanged via obscure VHF radio channels became more ludicrous with each new catch.
Naftzger advanced a few "presentation" approaches he liked when eyeballing a sword, but there were very few absolutes that he knew of or could rely on in his search.
However, that didn't deter the "wannabes" searching for some "secret sauce." When the Hustler would appear on the horizon, Ziess binoculars turned toward her. Anglers who spotted her were gratified, believing they were in the right zone. "Look' their riggers are longer," they would state. "What is that they are trolling? Is that a bent-butt rod in the rod holder on the chair?" And so on …
According to Denholm, the long outriggers were typical of many East Coast Rybos and Merritts. All but one of his swords was caught on presented rigged squid baits. Naftzger played with a lot of twists to the presentation but at the end of the day, the answer was focus, patience and dedication with tunnel vision.
Drive by the marlin to get to the swordfish areas, bait as many as you can find, in any way you can, and some will eat.
Bill McWethy tells a story of fishing with Naftzger and Felix McGinnis many years ago aboard his C Bandit. In the gray light, they spotted a group of sleepers. McWethy hollered for the two anglers to go to the bow to cast. Both admitted that they couldn't cast … so they slow-trolled the baits to the sleepers.
This would explain why Naftzger chose to present a bait from an outrigger. The sword could eat from behind instead of chasing down a squirrelly, live mackerel, resulting in a higher percentage of mouth-hooked fish versus foul-hooked fish. Then, if all worked out, Naftzger was already in a fighting chair (no stand-up) with bent butt working for him. He was an excellent angler (maybe the best) using that set up. Hustler could spin on a dime, completing the perfect combo to do battle with a top-notch crew to boot.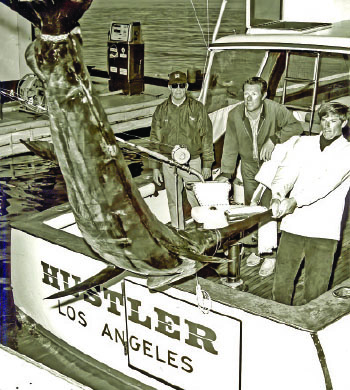 Obviously, to accomplish catch numbers in the double-digits, there were many losses along the way. There is a story of Naftzger hooking up in the lee of Clemente one afternoon only to lose the fish off the Tijuana Bull Ring the following afternoon, which accentuates Naftzger's stamina and tenacity, his ability to hang in there regardless.
Ted Naftzger's 48th swordfish came after a nine-year drought between the 47th and 48th.
"I've been out several times a year," he lamented, "once or twice a week in the summertime."
Naftzger finally broke his slump on Sunday, Nov. 21, 1993, when he took his 48th monster on the west side of Santa Monica Bay about 10 miles off the beach. He had taken his boat to the Channel Islands to look for swordfish over the weekend and after a fruitless, two-day search headed home in a cold, miserable, flat-calm drizzle.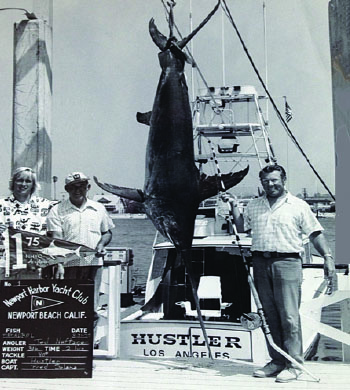 About 2 p.m., as the boat approached one of the deepest spots in the bay, the 503-Fathom Spot, Naftzger's boat captain, Tom Furtado of Florida, spotted the sword cruising on the surface. Naftzger snatched the Spanish mackerel he had in his live well for three weeks.
"I hooked it on a 50-pound outfit and the swordfish ate it," Naftzger said. "The fish was very active … jumped several times and made one real long run, which was thrilling to see. It cleared the water doing a scissor-jump, where they almost touch their bill to their tail."
Within 45 minutes, Naftzger had it to the boat. A triple-flag fish: first of the year caught by one person for the Avalon Tuna Club, the Balboa Angling Club and the Newport Harbor Yacht Club. The sword weighed 234 pounds.
"I've been hitting them for 30 years, every chance I could," he remarked. "But it's like big-game hunting, except on the ocean. You're hunting for one individual fish."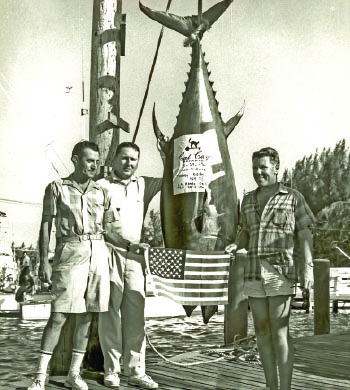 Records of the Tuna Club, the oldest sportfishing club, showed that this was only the second swordfish caught by a member since 1986 and the seventh since 1978.
"They've been depleted pretty heavily by commercials," Naftzger said, "especially the driftnets and longliners."
Over the years, with more sport boats, stick boats and airplanes in common fishing grounds, presenting baits from an outrigger that requires "room to maneuver" also required some sense of etiquette from nearby fishermen to give an angler some room.
"Between curiosity seekers, stick boats and other traffic, it has become much harder and harder to manage a proper outrigger presentation … hence, the preferred approach of casting live mackerel to ensure at least a few clean presentations," Denholm observed. "We had our learning curve and do present a cast bait a certain way that we believe produces the best results."
"We were good pals; Ted was the epitome of the Gentleman Angler," Denholm remembered. "A rare breed indeed."
When inducted into the IGFA Hall of Fame in 2002, Naftzger's 49 swordfish, according to the organization's website, was a record that has never been duplicated on the West Coast.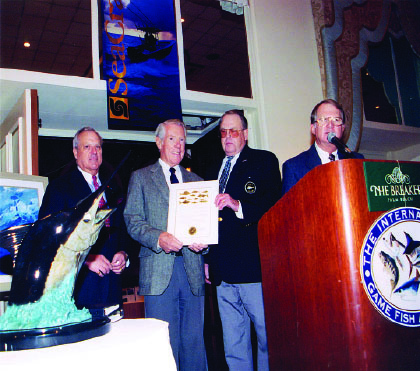 When Naftzger died in 2007, his dream of that 50th broadbill had never faded. His true passion for swordfish on rod and reel remained with him until his death. In his own words: "The hunt for swordfish is absolutely magnificent. You take your boat and search the surface of the ocean for your quarry, constantly testing your mental ability to solve one of nature's closely guarded secrets. It's precisely this challenge that keeps me coming back. If it were easy, I just wouldn't do it."