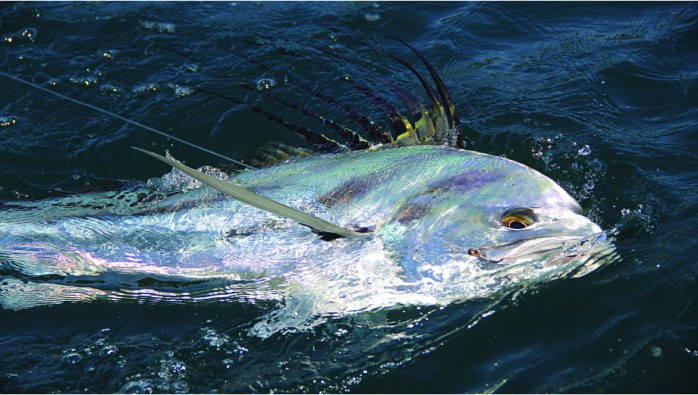 I never thought that trolling a dead black skipjack on the surface just 20 feet from the transom and rolling over like a plug-cut sardine would entice anything. Especially when run next to some precision-rigged, bridled livies swimming strongly below the surface where they should be. Yet, at 10:30 a.m. on this September day at the Hannibal Bank in the calm Gulf of Chiriqui, Panama, this all changed as a huge "whooshing" noise and foaming swirl startled a crew from the Panama Big Game Fishing Club.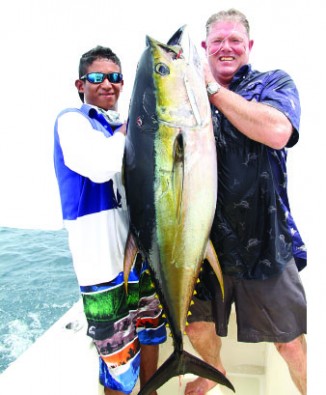 The bait disappeared and then popped up again. Mate Michael Rios quickly dropped it back, free-lining it as if it were falling naturally. The spool started to spin again and Florida angler Ralph Collazo set the circle hook and was pulled to the transom and finally made it to the fighting chair of the 31-foot Bertram. "This isn't like the sailfish I catch off Ft. Lauderdale," he yelled out.
The black marlin, with a quick estimate of 350 pounds by Captain Antonio "Chombo" Isazas, would take nearly an hour to bring alongside for a release.
Collazo enjoyed every minute of it.
"I always wanted a black marlin and now I'll probably want more!" he said excitedly. The case for big dead bait was brought up again. "Marlin, especially black marlin, are not boat-shy and get lazy and want an easy meal which the dead bait offers. Why chase fish and waste energy?" reasoned Capt. Chombo.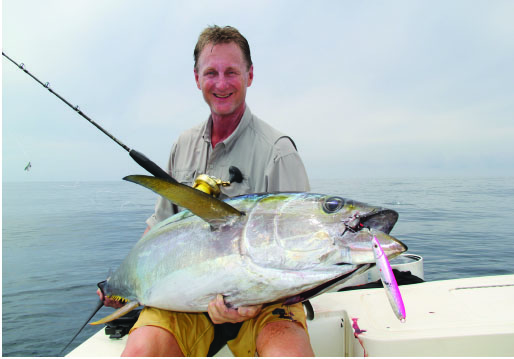 The Republic of Panama boasts a wide variety of gamefish, and visiting anglers have doubled in number since 2001. A unique combination of oceanic currents, islands, seamounts and a meandering continental shelf creates a year-round habitat for gamefish that respond well to a variety of fishing techniques—exactly what an angler wants in a fishery. Whether you like to cast surface poppers, deep jig, troll bait and lures or fly fish, Panama is a good place to hone your skills or try new techniques where the fish are more likely to respond to your presentation.
Offshore, yellowfin tuna ranging from 20-pound schoolies to over 300-pound cows provide most of the action from January to July, although the calendar has been changing in recent years with more fish showing at the beginning of the wet season (April to July).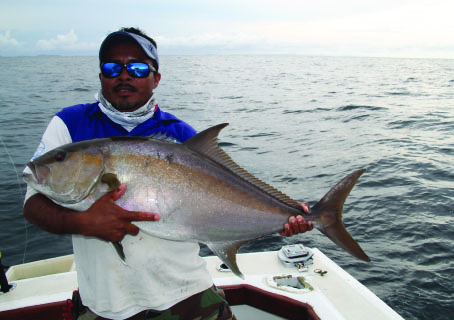 That doesn't mean that early season fishing is not good—it's just not as good as Panama can get. Last March, Lorton Mitchell and Tom Christiansen, two West Coast "bait and iron" guys from San Diego, were introduced to Panama by fishing at the Big Game Fishing Club for five days. The butterfly jigs and live bait made easy work of tuna from 40 to 100 pounds the first day, but I encouraged them to cast poppers using spinning and conventional outfits as I wanted some action photos. As we were trolling for marlin at the Hannibal Bank we passed through small areas of spotted dolphin, bait, birds and tuna before Mitchell couldn't take it anymore and made his way to the bow for some surface casting with a Shimano Saragosa spinning reel. After a few tries, a big yellowfin leaped on his Orca lure and he struggled to get back to the stern. After an hour and 35 minutes, Capt. Chombo and mate Rios gaffed the tuna that weighed 168-pounds at the dock scale.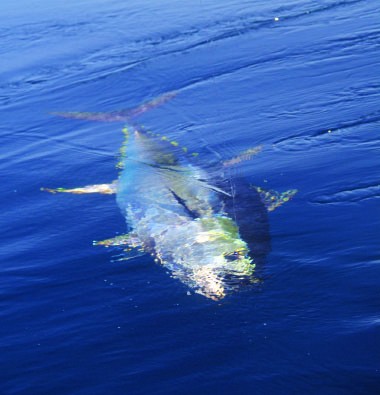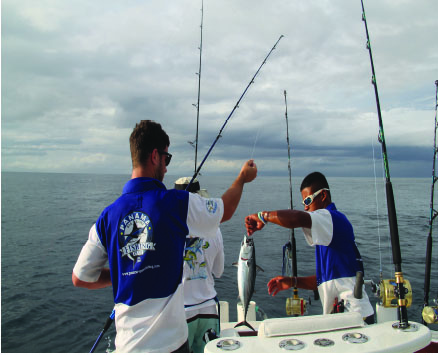 "Unbelievable!" said Mitchell. "Did you see that fish jump on my lure? That's some crazy fishing. I'll never forget that!"
Adding more tuna, sailfish, cubera snapper, amberjack, cherna (snowy grouper) and other species to their list of gamefish just padded the experience.
"Panama Big Game has spoiled us forever," said Christiansen. "We'll be back for sure."
As tuna sometimes thin out after September, they are often replaced by wahoo which can be taken closer to shore. Both blue and black marlin (striped marlin are rare in these warm waters) remain a year-round species but vary in abundance on a weekly basis. Weather-wise, the dry season is dominated by calm seas, blue skies interrupted by short period thunderstorms, 95 degree air temperatures, 82-86 degree water temps and high humidity. During January to March there can be a few days of strong north winds that occur after the full moon.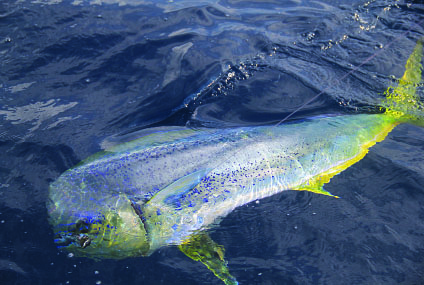 On March 4, the winds were blowing up the sea so we opted to fish the calm lagoon system with live sardines netted by Capt. Chombo. Anchoring the super panga in the tidal surge we caught juvenile goliath grouper, mangrove snapper, cubera snapper and some oddities such as round flatfish. At times snook and large orange mouth corvina can be taken as well. The wet season is fishable but you may lose a day or two with larger storm cells moving through, occasional rough seas but with cooler air temps of 65-80 degrees and sea temps of 78-82 degrees. Most anglers visit during the dry season but some lodges, such as Big Game, are now staying open longer as fish migrations change and there is angler demand for a longer season.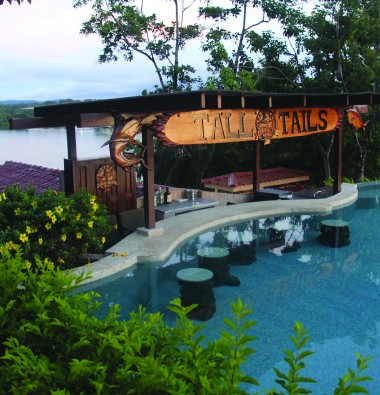 Marlin and tuna may have put Panama on the international map but the inshore and island game fish are the backbone of the year-round fishery. It's not unusual to record 20 to 30 species during a week if you try different techniques and a variety of habitats. As in other world-class fisheries, Panama is concerned about sustainability of the resource among competing interests. The Big Game Fishing Club is a supporter of the newly formed Panama Marine Resource Foundation under President John Maynard that seeks to have a stronger voice in the politics of fishery management. The PMRF has put together a draft of "common sense" rules for sportfishing that include the release of all marlin, sailfish, roosterfish, grouper and cubera snapper while creating a size and species limit on dorado, wahoo and other species.