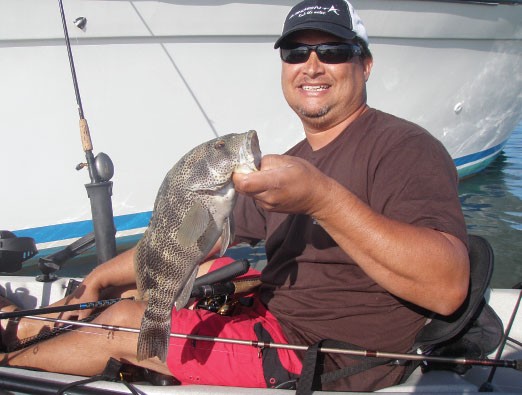 When it comes to trolling there is much confusion to the everyday angler. Trolling is something that I recommend to all anglers, even the ones who compete on a tournament level. But the technique is more than just putting a bait in the water and dragging it behind your kayak. It's using the right gear, controlling vessel speed and assessing immediate conditions.
As we look at the art of trolling consider the conditions that you're experiencing. Are you fishing open water or in the bay? Because fish need structure food and current, you can't ignore these in your approach. The great thing about trolling is that you're always moving, and always looking for that reaction bite. Ripping a bait through the water, you are trying to elicit a strike.
As you're moving, it's important that you know the ground you're covering and that first requires a fish finder. And when it comes to these units, it's vital that you have the option of color and GPS to better interpret the terrain and cover. Bigger bass love hard and structure bottoms like clam beds. These will appear in bold on your sonar as will bait balls and kelp in open water. Inside, when fishing in the bay, it's important to know where the grass is and how high it rides off the bottom. Knowing those conditions will help you with lure selection.
The right tool for the situation will change your success rate.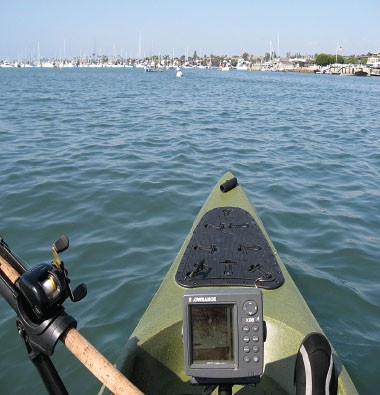 Everybody has his or her favorite lure, but sometimes that lure is not right for your conditions. When trolling in a kayak you have to use a little horse sense. For instance, in an area with grass where the depth is 10 feet, but the grass rises up four feet off the bottom, you don't need a 10-foot diver, you need a bait that barely gets down to six feet.
Also, when it comes to color, light penetration in the water affects how bass see your offering. I like to troll dark in the morning and bright during the day. I've had particular success with dark crawdad colors in the morning, then changing to a perch or fire-tiger during the day when trolling in the grass. Everybody has his or her favorite color for the different bays that trigger calico bass, but if it does not dive to the required depth, the only thing you will catch is grass or the bottom.
The speed of your kayak will actually determine the depth of your lure. Baits have a depth range, but the longer the line and the faster the speed, they typically run deeper. This is why a GPS is a critical accessory. Your ideal speed for most diving baits is trolling 1.5 to 2 mph. Watching your GPS reading as well as how your lure is performing, you can dial in the right bait for the conditions.
There is some trial and error in the process, but take a DT-6 from Rapala, as an example. You know the depth of your bait selection is 6 feet so at 2.5 mph you will get to that depth. Stay at that speed and the bait will stay right at the tops of the aforementioned grass growing up four feet above the bottom.
The only time speed is not a factor for me is when I'm using a Rapala countdown or ripping bait that sinks. For these I like to "flicker" the baits. You do this by making short paddle strokes or short kicks in your Hobie. When flickering it's good to have a rhythm pattern to maintain, whether it's paddle-paddle-stop or short kicks in your Hobie. Bass don't always respond to a straight retrieve or troll, and putting a little sinking movement to it will make it come alive. But having a baseline rhythm lets you duplicate what's working, or adjust from what isn't.
One of my favorite lures to use is the old Berkley Frenzy in the FM10-M series in fire-tiger or perch. This bait has been off the market for some time now and eBay is the only place you can find them, but if you come across some, buy them at all cost! The only problem with this bait is that it dives to 12 feet. For the bay that is a little much, but this bait is perfect for flickering in your kayak on a troll.
I like to swim this bait to about the 8-foot mark. I do this by trolling at a slower speed, something around 1.5 mph. At the full 2.5 mph this bait will reach its maximum depth in seconds. Paddle this bait a few feet and stop and let it float up. If you find that you're getting hung up too much, slow your troll speed down.
Deep divers also work well in open water for calico bass and sand bass. I see lots of anglers using them in San Diego Bay and the Newport Harbor Channel to get to the depths of those clam beds. Not only are you able to cover lots of water, but it's also a good way to key on groups of fish holding in structure areas. When in open water kayakers often troll swimbaits for calico bass and when we find one we find the whole clan. When we hook a fish, we mark it on our GPS and then throw finesse baits at it, or make some additional troll passes at it.
I'm often asked what is the best situation for trolling, and believe it or not, it's a full moon. We hear the fish don't bite as well at that time of the month because they are foraging through out the night and don't want to feed. Yet, it's not so much that they are full but more that they are used to a pattern of eating, from the full moon. Trolling on a full moon gives you the pattern that the fish want, which is a reaction bite. If they are up all night chasing bait duplicate that pattern.
Depth control is more than just lure selection. You might need to switch over the leadcore line to get your bait down into a key zone. Lead core is a way to get away from the downrigger, using a swifter method that's not so big and bulky. Just remember that with leadcore you need a top shot of no more no less than 30 feet of fluorocarbon leader.