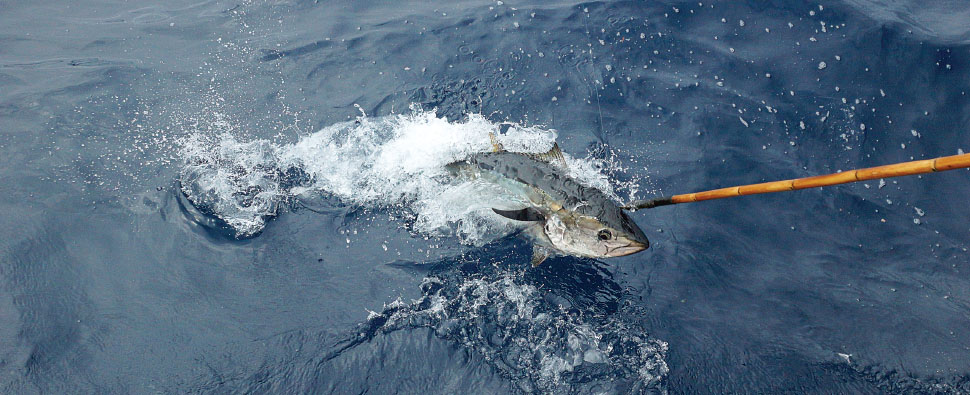 If there's a trolling jig that's a universal soldier, it must be the cedar plug. No other jig seems to match its strong kicking action, which looks like a sardine in a serious hurry to reach safer parts. All tuna, even the jig-shy bluefin, will bite it, and so will marlin, wahoo, yellowtail, bonito, dorado, grouper, cabrilla, snapper and ambitious mackerel.
Probably no lure still in use pre-dates the cedar plug. The late Ed Ries, one of the Southland's great fishermen and an enduring storehouse of saltwater knowledge, wrote in his 2011 book, Looking Asstern, "When albacore first became a desirable commercial catch around 1910, many fisherman whittled lures out of wood and bone, but it was not long until they were replaced by factory-made cedar jigs…until 16-year albacore drought that began in 1926 stifled demand.
"I remember seeing dust-covered bins full of them and marveling at the simplicity of their design. A single, lacquered black hook jutted from an unpainted, cylindrical wooden body weighted with a lead head and eye for attaching line.
"… [L]ogic suggests the following: the unpainted cedar body was drilled through its length, pressed onto a long-shanked, eyeless hook and placed in a mold. Lead was poured around the protruding end of the hook shank, and the remainder formed an eye. The result was a very strong, solid lure suitable for horsing in tuna on a hand line. A few had double hooks, and there were some with bone bodies.
"Modern versions are drilled lengthwise to slide on a leader, and many sport a coat of paint. … Cedar jigs are said to have originated 150 years ago with the 'tunny trawlers,' yawl-rigged sailboats trolling the Bay of Biscay from the Brittany coast of France."
A Century Old But Still Hot
In the late 1980s word came to the Southland about anglers using cedar plugs to catch Atlantic tuna. I was intrigued, and requested and then received the first cedar plugs available on the West Coast. It didn't look like much more than a wooden cigar with a lead tip, but it swam with a great kicking motion that reminded me of a sardine in a panic. I found that it out-fished the skirted jigs for yellowfin; albacore were gone then from our waters.
Fishing that summer with tackle maker Russ Izor and his manager John Rowe on a Carl Newell charter aboard Excel, I touted the cedar plug, but crusty old Russ pooh-poohed the notion that anything could out-fish his favorite skirted jigs.
"Watch this," I told Russ.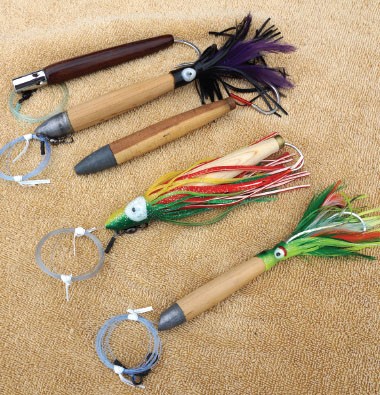 We put a cedar plug behind the boat with four hot, skirted jigs from different makers. For two days, the plug caught as many tuna (mostly albacore, but we trolled up yellowfin and some bluefin as well) as the rest of the jigs put together, no matter if it was fished in the corners or in the middle of the stern. We alternated location after each fish-producing stop.
Once he got over his consternation, Izor was so impressed with the cedar plug's performance he nabbed a distributorship for it, I discovered the next time I talked with him. Thanks in part to Russ, today most offshore anglers know what the cedar plug is, and a majority own one.
The design, as noted by Ed Ries, is well over 100 years old. The cedar plug appears be the oldest lure still in consistent use. Now, with the return of the bluefin tuna fishery, this plug and other hard jigs are accounting for more tuna than ever.
They Eat the Plugs Better
"We've found that the diving plugs get bit a lot better by big bluefin," skipper Randy Toussaint remarked one day. "They usually won't touch the skirted jigs."
What is there about hard jigs that bluefin tuna find so appealing?
The obvious differences are in the shape and movement of the jigs. In the case of the cedar plug these aspects seem paramount. The cedar plug is now available in all the usual favorite colors: blue/white, red/white, green/black, green/yellow, etc., and also with various types of heads, skirts and other afterthoughts, but the one that gets bit most often still seems to be the natural wood color, my personal favorite. This leads me to believe that shape and movement are as important as color in drawing tuna strikes.
It may not matter, but I used to select my cedar plugs by looking for a light/dark color combo that might indicate a light belly and dark back, like a natural bait.
A problem with other hard trolling lures is making the plug run straight, so it doesn't tangle with the other jigs being trolled. Jigs with a bendable bill especially must be monitored to make sure they don't spin or run off to one side, tangling other jigs in the trolling spread.
Joe Chait, owner of the charter Conquest, loves the cedar plug.
"The Cedar plug never gets tangled," he said as a guest on Let's Talk Hookup. " And you can troll it really fast. It never spins in circles, and everything eats it. We troll the cedar plug and it does just fine."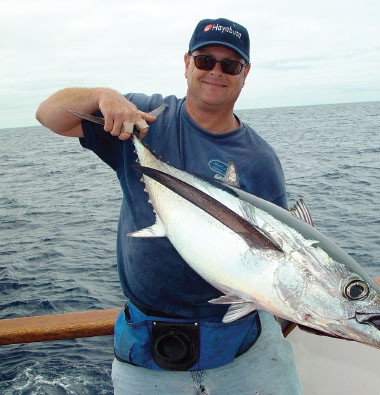 We can hope this year for another bluefin bite like we experienced over the past three seasons, each of which was better than the previous one. Last year was the best I can remember for shortfin. But even if the water warms so fast and so much this year that bluefin and their cool-water brethren the albacore make an early departure, you'll still be making a smart move to bag yellowfin tuna or dorado, if you pull a cedar plug along with your Zukers and other trolling jigs.
Like Joe said, "Everything eats it."
Bill Rocker owns FishingVideos.com, where he posts daily reports from the long range fleet and other sources, and Oceanic Productions, which published his book At The Rail: Long Range Fishing the book, Bill's Sportfishing Calendar and his Standup Fishing DVDs are for sale on his website and in most Southern California fishing stores.