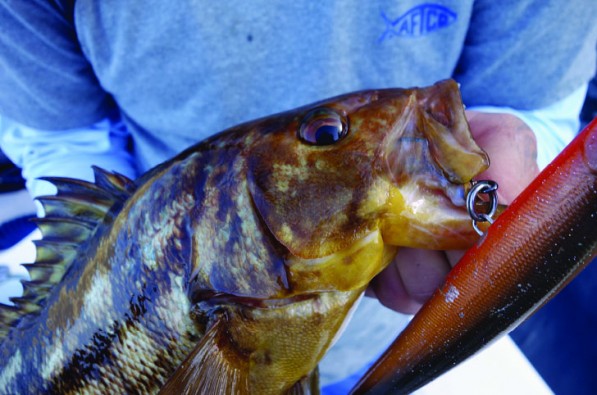 My first exposure to fishing the hard bait, or jerk bait as it's known in fresh water, came while targeting largemouth bass at Pyramid Lake some 10 years ago with Marc Higashi of Performance Tackle in Los Alamitos. "It's a simple bait to fish," Higashi explained when we arrived at our first spot that morning. "Just cast it out and retrieve it using a wind, wind, jerk, pause cadence." To illustrate this, he cast the lure along the shoreline and, using a combination of sporadic turns of the reel handle coupled with well timed twitches of the rod tip, made the bait swim enticingly just below the surface.
After making a couple casts to make sure I'd got "the rhythm down," he passed me the rod and told me to give it a try. Apparently getting "the rhythm down" takes more than watching a couple of casts, because I spent the next several hours flailing around, twitching and jerking at all the wrong times and frothing up the water so bad that any fish that might have been in the area had surely left or at least decided against eating any time in the immediate future. I eventually wore myself out, the forearm on my rod-jerking arm so cramped up I was forced to resort to jerking the entire left side of my body to get the rod tip to move. After pointing out that my modified rod twitching style made me resemble the Frankenstein monster chasing villagers down a hillside, Higashi suggested I take a break and maybe give drop-shotting a try.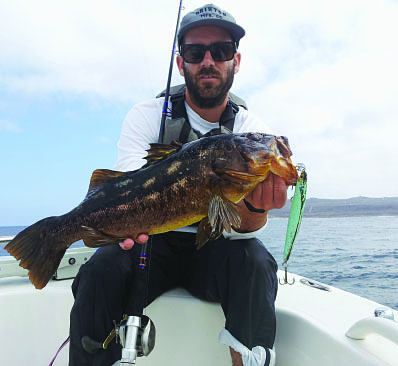 And take a break I did. For the next five years I completely avoided even thinking about using the technique. The memories of that horrible day were so vivid that I cringed every time I heard the words "jerk" and "bait" used in combination.
But like with most things in life, as we move on and get older, our bad memories begin to lose their power. By the time I'd bought a saltwater bass boat and gotten into tournament fishing, that particular memory had fogged over sufficiently for me to decide that fishing the jerk bait for calicos would be a good idea. So, I headed over to Performance Tackle to get stocked up.
"You're sure you want to try that again?" Higashi asked as he leaned against the counter with arms crossed and a suspicious look on his face. "You do remember what happened last time, right?"
After convincing him (and myself) that I'd evolved as an angler and wouldn't be having any of those kinds of problems again, I loaded up on several sizes and colors of Lucky Craft jerk baits. I headed out the next morning, armed with approximately $200 worth of hard baits and a plan to put the smack down on some Palos Verdes calico bass.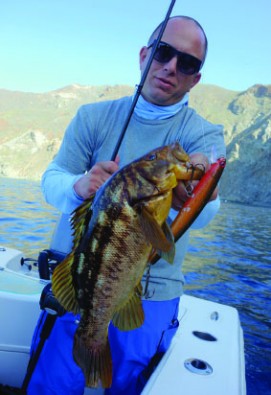 I'll spare you the details of my day, but will say that after several hours of jerking, twitching, lurching and much frothing of the water for not a single bite, I again admitted defeat. Several days later, and once the muscle spasms in my right arm relaxed enough for me to use my hand, I picked up the phone and called my friend and Lucky Craft pro-staffer Chris Lilis for help.
"That sounds about right," Lilis responded after hearing my story. "Marc told me that you were one of the least coordinated people he's ever fished with."
In response to my audible groan, Lilis countered, "I'm joking about that part, but it can be tough to get the right cadence on the smaller baits. That's why I mostly fish the big baits. They're easier to present and they tend to get the bigger bites."
The small and big baits that Lilis is referring to are the Lucky Craft Pointers and Flash Minnows that range in size from 110 (mm) to 190 (mm) or 4 1/2 to 7 1/2 inches in length. These long and slender baits have a small bill that causes them to dive to between 1-3 feet before swimming with a side-to-side action that can be augmented with jerks of the rod.
"I'll fish all of the baits, except the 190, with the same 'wind, wind, jerk, pause' retrieve that Higashi uses," explained Lilis. "But when I'm fishing the 190, I'll just use a medium to fast retrieve with occasional pauses."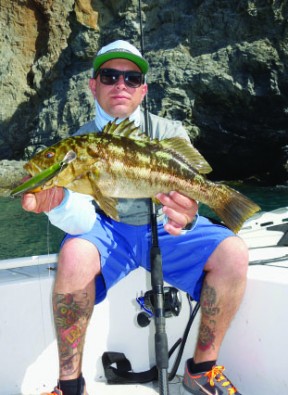 He continued: "One of the biggest parts of fishing any of these baits effectively is matching them up with the right rod-and-reel combo. The smaller baits I fish are the Pointer 128 and the Flash Minnow 130, and my go to color is American Shad. Both of these baits can be fished on a 7-8 foot medium heavy graphite rod; I fish a Performance Tackle 707MH matched with an Abu Garcia Revo Inshore full of 50-pound Spiderwire braid.
"When throwing the 190, I'll use a Phenix 703XH, which is a 7-foot extra heavy graphite rod matched with a Revo Toro 50 NaCl reel full of 65-pound Spiderwire braid. This bait comes in both freshwater and saltwater versions. While both of them work fine, the saltwater version has some better fin bait colors. In the saltwater series, I like to fish the Zebra Sardine or the Aurora Green Shad when the bass are keyed in on fin bait. When fishing the islands, I've had better luck using the darker colored freshwater baits like the Parrot Shad, Red Musky and Cream Yellow Perch."
Once you've procured a selection of sizes and colors, Lilis recommends some modifications to get them ready to fish.
"The first thing I'll do when I buy a new bait (excluding the 190), is to replace the hooks with Owner 3X trebles," he says. "The baits come with trebles that are designed for freshwater use and they just don't hold up to the abuses of calico fishing. Next, I'll remove the split ring where the bait gets tied to the line. Whenever I'm fishing hard baits I'll connect them to my line using a Decoy Egg Snap. On the smaller baits I'll use the #3 size and on the 190 I'll use the #5 size. This snap not only makes it easier to change baits but the large ring gives the bait better action than it would have if you tied your line to the small split ring the bait comes with."
As I'd learned in my previous attempts at fishing the jerk bait, getting geared up is the easy part, so I asked Lilis to take me through how and where he likes to fish the bait.
"Like I said before, it takes some practice to get the smaller baits to swim properly," he replied. "The good news is that calicos are a lot less picky than largemouth, so you don't have to have perfect form to get bit. If you're new to fishing the hard bait or if your technique still needs some work, I recommend fishing the 190."
The mechanics of fishing the bait aside, Lilis explained that presentation is particular to which type of structure you're targeting.
"There are three basic scenarios where I'll fish a hard bait: in the kelp, around boilers or shallow water reefs and over deep water reefs. Let's start with the kelp.
Regardless of what bait you're fishing, the first step in catching fish is to find areas in the kelp bed that are likely to hold biting fish. When I approach a kelp bed, I'll start off by making casts across the leading edge as that's where feeding bass are most likely to be. If I get bit or even just see a fish, I'll fish the bed more thoroughly. If there is a side of the bed that is lying parallel to the current, I'll make a few casts along that side, because that's another good ambush point. Finally, if the bed has sparse stringers or open lanes, I'll cast down the lanes and try to bring my bait past any obvious ambush points."
It's been Lilis' experience that you don't need to make long casts to get bit when fishing within the bed.
"A lot of times I'm practically pitching the bait 20 or 30 feet to just past a particular target and bringing the bait back past it," he says. "These shorter casts not only cut down on getting hung up in the kelp but they increase your chances of hooking fish because you can see your bait the whole time. Regarding that, if you're retrieving your bait and see a bass tracking it, try giving it a couple faster winds and then pausing the bait. A lot of times the bass will speed up with the bait and then slam into it when you stop winding. If you hook a small fish and see a bigger follower, stop winding for a second and give the bigger fish a chance to try and steal the bait out of the smaller one's mouth. There are two treble hooks on the 190 and we get a lot of doubles, with the bigger fish usually being the second one to bite.
"Fishing shallow water reefs isn't all that different than fishing in the kelp except for the fact that you'll be fan casting rather than targeting particular stringers. The natural tendency is to position your boat in a way that allows you to cast into the shallower water toward the beach, but at Catalina and Clemente some of our biggest bass have been caught when someone turns around and casts out into deeper water. Just try casting in different directions and varying your retrieve until the fish tell you what they want on that day."
Lilis calls boiler fishing with a hard bait "pretty simple."
"Position your boat just close enough that you can make it to the rocks with a long cast, that way you'll have room to fish the bait on the retrieve. I'll normally cast out and burn the bait a few cranks once it hits the water to get it to dig down into the surge. Then I'll pause for a few seconds and let the bait float around like a stunned sardine. Most of the bites will come during the pause, but if I don't get one I'll burn the bait into clear water and then slow down to a normal retrieve. Your bait is going to get hung up in the rocks from time to time when you fish this way but you can almost always get it back. If you feel it hit a rock, do not swing, instead throw the bait some slack and the motion of the surge will usually float it free of the snag."
The final scenario for fishing calicos on the hard bait is Lilis' favorite.
"A few years ago, my tournament partner Brian Marshall and I started using the 190 when fishing calicos over deep water structure and I love it. Last year, we had a 19-pound bag of calicos during the SWBA season finale and caught them all off of bait schools in 60 feet of water.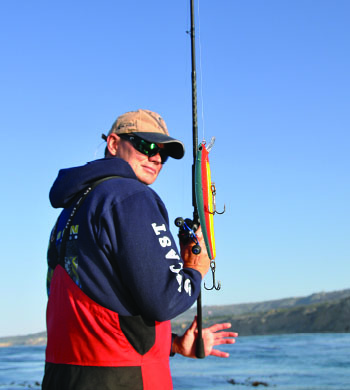 "This type of fishing takes some work to figure out because there isn't any visible surface structure like kelp or rocks to reference. Instead, you're relying on your fish finder to tell you where the structure is and birds or bait to tell you where to cast. During last year's tournament, we ran down to an area of hard bottom off Huntington Beach and metered a lot of bait schools high in the water column."
They found good current and birds flying around, "so it definitely looked fishy," Lilis recalled. "We set up the boat over the structure and made fan casts until we'd get a bite. Then we'd keep casting until the fish stopped biting in that area and we'd go back to fan casting. There were a lot of smaller bass in the area, but we figured out that if we didn't swing on the small bites, they usually wouldn't get the hook, and the action would attract a bigger fish that would slam the bait and hook itself."
Given my lack of coordination, I'm not sure that I'll ever get proficient at fishing the smaller jerk baits. But after talking to Lilis, I'm going to stock up on some 190s and hopefully use them to try and shake my bad memories of fishing the hard bait. For more information on using Lucky Craft jerk baits in saltwater applications, Lilis recommends checking out
www.thedailyflashminnow.com
for photos, videos
and instruction.