The New 34 – Clean Lines and Built to Tackle Any Gamefish
My first Regulator boat review was on their legendary 28 Center Console–a stable fishing platform with classic sportfishing lines and everything you need to fish the West Coast. So when I first laid eyes on the new Regulator 34 Center Console, it was one of those moments where you just stand motionless on the dock for five minutes and admire her beauty …
She looks fast and can reach a top speed of 57 mph with a pair of Yamaha F350 four-stroke outboards mounted on an Armstrong bracket off the transom. I have nothing but good reviews on these big Yamahas; my dad owns a set of Yamaha four-stroke outboards and they have performed flawlessly and raise fish into the trolling pattern almost as well as my single inboard. The factory specs at 4,000 RPMs give the Regulator 34 a cruising speed of 36 mph with a burn rate of 27.5 gallons an hour. While I am not a Yamaha expert–I like 3,800 RPMs on twin Yamaha 350s–it seems to be the sweet spot on both fuel burn and speed. With a fuel capacity of 380 gallons, an overnight tuna run out to the Cortes Bank on a good weather window would be possible without the need for additional fuel.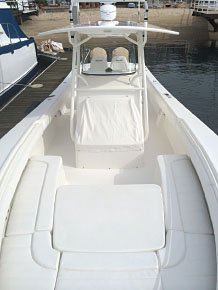 The Regulator 34 is 33 feet, 10 inches LOA with a 10-foot, 11-inch beam. When sitting on the helm seat looking forward this boat seems much larger than other center consoles in its class. There is something about a Carolina-flared bow and a wide beam that just make these boats feel much roomier than the other production boats. The transom area is squared up and roomy enough for three or four guys to be pulling on fish. The outboard bracket that doubles as a swim step opens up the cockpit area with a large oval live bait tank centered on the transom gunnel and a 272 quart fish box for chilling a boat load of gamefish on the port transom. The only thing I would change for our West Coast-style fishing is a removable bait tank lid instead of the hatch that folds open for easy access. On the starboard side there is a dive door much like the lifeguard boats but with a secure hatch that folds down onto the transom. For the diving community this is a huge plus—as well as for that once-in-a-lifetime goal of loading a swordfish or giant tuna onto the deck.
Then there is the WOW factor: While examining the tackle center I flipped up a stainless steel hatch that revealed a state-of-the-art gas BBQ grill! Not one of those small portable oval models, this one allows you to throw four big rib eyes on it and have plenty more room to grill veggies. Standard options included tackle drawers, rigging sink with fresh water and a cutting board. Everything needed to fish and eat well in the evenings is on this thing.
Regulators are built like no other with a reputation for solid engineering and being overbuilt to the highest standards. Their manufacturing process uses only premium-grade products and a unique four-part design that give Regulators a "custom" boat look and ride. While I was taking photos, several bay cruise boat pilots passed by asking, "What kind of boat is that?" It just screams custom built to perfection. With a deadrise of 24 degrees, flared bow and Teleflex Optimus power steering assistance, this center console cuts through the slop and swells with ease.
Walking up to the bow, the 10-foot, 11-inch beam comes into play. There is plenty of room for easy access 360 degrees around the boat–even next to the console with its set of large padded helm seats. Forward of the console is a padded bench seat with a massive open bow area with padded seating on both port and starboard sides. The bow area also doubles as an open air lounge area or even a sleeping arrangement for two. I was expecting to find a couple bikini models up here sunning themselves during my boat tour–it had that look of being anchored up in a cove on a summer day!
The fiberglass T-top has a molded electronic box overhead, LED spreader lights, outriggers and a set of rocket launchers behind the helm seats. The console window is curved to match the lines of the T-top and provides protection from wind and spray. The console has flush mounted 14 inch electronic display screens and drink holders and storage areas in all the right places.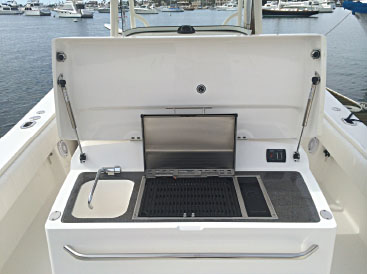 The port side entry door leads down into what I would call the master stateroom. I am 5-foot-9 and had plenty of room overhead–at least another foot or more. The fresh-water sink and head are set into a beautiful Corian countertop. Behind the Corian counter is a cabinet with easy access to the electronic panels and battery terminals. The vee berth sleeps two very comfortably with LED lights and several storage compartments for personal belongings. The console vee berth would be an ideal place to keep fishing outfits locked up after a trip, and this particular model had a vertical rod rack for additional storage. Being able to store your fishing outfits on a center console is a HUGE time saver and keeps anglers from having to make multiple trips up and down the dock loading gear.
This particular Regulator 34 was custom outfitted with a navy blue hull; Regulator offers a full range of color options for the hull. All the aluminum on the T-top was powder coated white to match the decks and padded console seats. The anchor windlass was mounted inside the bow coupled with a stainless steel Bruce anchor. Four stainless steel rod holders in the cockpit for a proper trolling spread and absolutely no clutter are examples of everything being well organized and serving a purpose.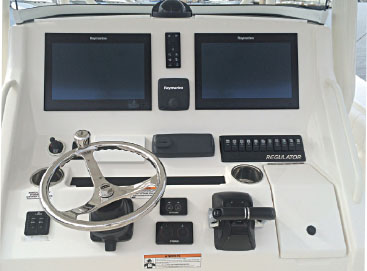 If I had to build a West Coast center console in the 34-foot range set up to tackle any Pacific gamefish, I would save myself the time, money and effort and just call Pete Giacalone at Kusler Yachts. The Regulator 34 is "that" boat plus it is set up just right for family and friends to enjoy boating along with a safe and smooth ride. Pete can be reached at (619) 992-8194 or by email at pete@kusleryachts.com.
And please let me know what the ride is like at 3,800 RPMs! ■