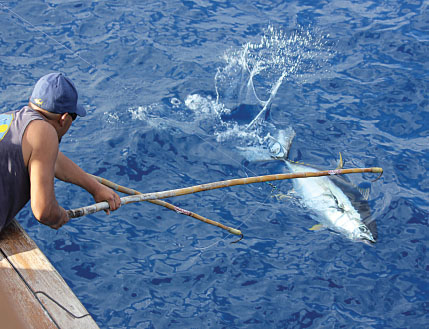 This season the first two trips deep into southern waters were made by Polaris Supreme and Intrepid, in early October. The fish were there, at the Hurricane Bank and the Buffer Zone, and both boats had success catching wahoo, big tuna and numerous cows, tuna over 200 pounds.
One risk of going into those waters so early is encountering tropical storms, and Intrepid was touched by one as the boat made its getaway.
"We have traveled since Friday evening," wrote skipper Kevin Osborne on Oct. 15, "leaving the great fishing on cows in order to get ahead of the developing storm system.
"The safety of our passengers and vessel is always top priority. Saturday was decent weather with good speed, but Sunday was a day of increasing winds and sea state with our speed dropping off considerably. We knew at that moment it would be closer than we like as far as getting up ahead of the storm. Early Monday morning we were caught by the North East Quadrant winds of Tropical Storm Octave before we could get clear. At daylight I made the decision (with Capt. Billy by my side), to turn back into the South East and take on the waves and wind head on, as there were no other options.
"For the next five hours we battled through 50 mph winds and 20-foot waves before coming out into the clear to the South East. The crew did an amazing job during this ordeal as Billy and I took turns at the helm keeping our bow into the wind and waves. The Intrepid is a very sea-worthy vessel (as any of you who have been on her know), and she worked hard with us getting out of the storm and into a peaceful, surreal scene as we left it behind. We have spent the night anchored down here on the lower banks and will be fishing again today, although the current and conditions are not ideal, we'll take it!"
Intrepid returned with 19 tuna over 200 pounds. The best fish, at 263.8 pounds, was caught by Bill Bennett, a Los Angeles County plumbing supervisor.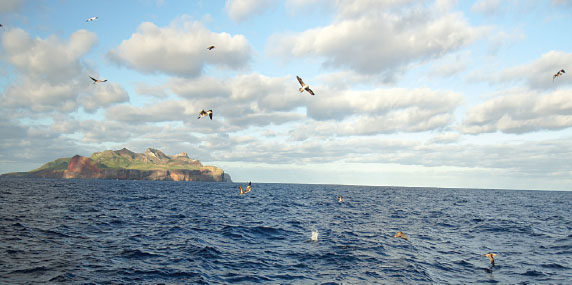 Winter Wonderland
It's a different world down there at the Hurricane Bank and the Buffer Zone in winter. While San Diego may bake in a Santa Ana or slog through a series of winter storms, the tropics are enjoying warm water in the 70s or even the low 80s. Big tuna and wahoo down there may act like it's still summer, feeding on all manner of local and pelagic bait like fat grizzlies making ready to hibernate.
How big is big? 2012 saw three more 400-pound tuna join the ranks begun with Mike Livingston's 405-pound behemoth. Two were taken by private boaters. One of them, at 445 pounds as you will recall, was taken by John Petruescu, a rookie who lost his chance at an IGFA world record and who knows how much money in endorsements, etc. when he handed the rod he was fighting the fish with to Excel skipper Justin Fleck. Why? To light a cigarette.
John said he pinned his skippie to a 12/0 Mustad 7691 hook and a BHP wind-on leader of 130-pound Momoi. His backing was 130-pound Line One spectra on a Tiagra LRS 50 W reel and Seeker Black Steel 6460 XH rod. He also had a cow that weighed 201 pounds. There were 42 tuna over the 200-pound mark aboard Excel.
Petruescu was lead electrician on the San Vicente Dam project. He came from Romania, after his father, brother and 11 more family members are now here. Interviewed on the dock, John may still have been fishing.
"I'm 33," he remarked, "and single."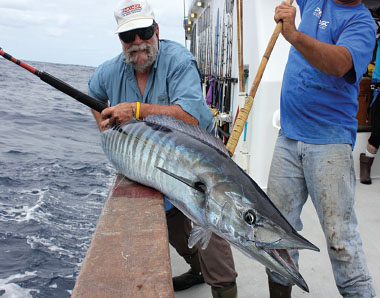 Sticking Skinnies
Tuna aren't the only game in town down south. Also highly targeted by long rangers, wahoo may stage strong bites in both areas. Excel skipper Fleck offered these tidbits for fishing skinnies.
"Where wahoo are is where tuna will show up," he said. "Late in the afternoon, I'll try with the kites and balloons for tuna, when they decide to bite.
"We get lots of wahoo on Yummee Flyers. Jason Fleck [Justin's twin brother, chef on Excel] is addicted to fishing the big plastic baits. He gets up to 75 percent of those plastic-caught fish on the kite or with a balloon.
"We slow troll in unison at three to five knots, with the kite up and the flyers skipping along. When I'm doing this, we may troll live baits, bombs, or just go along dragging the flyers.
"One most effective, best-kept secret is this: fluorocarbon is so strong and abrasion-resistant we go to it because the wahoo bite it so much better. We use 100-pound fluoro and circle hooks for wahoo on 30-pound line, with 5/0 Mustad Demon hooks when we want stealth. When you don't want to use wire, fluoro works best; 18 to 24 inches of fluoro is my preferred leader length.
"We also use sardines under a balloon when the skinnies are thick. The wire we use then is 60-pound Sevenstrand."
Independence skipper Jeff DeBuys remarked, "Wahoo are very unique fish, as they can be aggressive at times, and pretty wary at other times.
"What comes to my mind when they're aggressive is there's more around then, and they're not boat-shy by any means. When trolling, we set the jigs right outside the first wake, about 20 to 25 feet back, for a boat of 90 to 110 feet. Our speed is about 8.5 knots.
"I've seen 'em land on the boat, and I've seen eight or 10 hit the side, bang and fall back in. I've seen so many caught on casting lures, bombs or jigs. They come right up and eat it below the scuppers! The guy who winds the fastest gets the most bites. The most horsepower gets the most fish.
"You've got to stop your jig at the surface before you bring it up," cautioned DeBuys. "Wait about five seconds, or you could get a helicopter ride to intensive care."
Bill Roecker owns FishingVideos.com, where he posts daily reports from the long range fleet and other sources, and Oceanic Productions, which published his book At The Rail: Long Range Fishing. The book Bill's Sportfishing Calendar and his Standup Fishing DVDs are for sale on his website and in many California fishing stores. ■