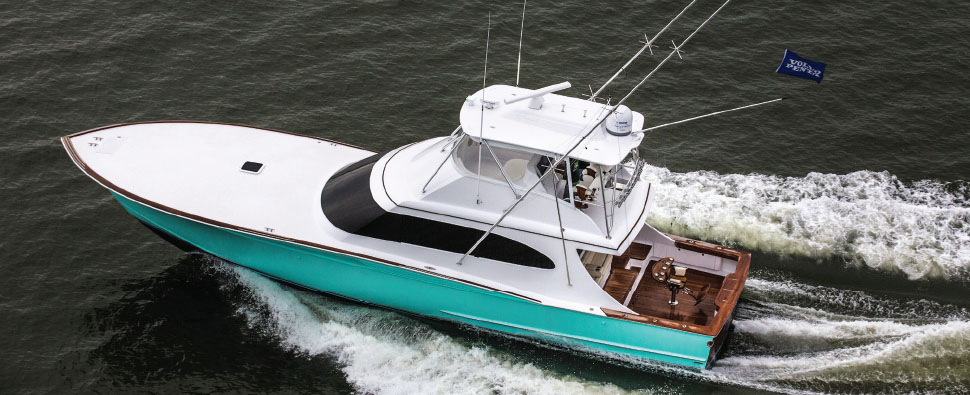 The Miami Boat Show is the best in the world. There are literally miles of the finest sportfishing machines ever built. Imagine a row of 50 yachts all lined up–boats that just scream blue marlin fishing! Then cross over to the next dock and see another row of 50 in the same class or even better.
Mix in Miami weather, South Beach night life, and a healthy stock of sailfish and swordfish within 15 miles of your hotel, and you have the makings of an Atlantic paradise.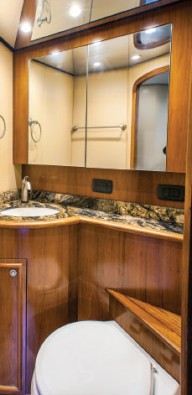 While Bertram, Viking and Hatteras shine in the production yacht category, my favorites are the Carolina customs that dominate the tournament circuits in that part of the world. These customs are in a class of their own, and one who has turned his family's fishing passion into a custom yacht building business is Paul Spencer of Spencer Yachts.
Captain Spencer grew up fishing the waters off the Atlantic and started working as a mate at just 12 years of age. At 19, he got his captain's license and earned a living in the charter business and competing in local tournaments where he quickly became one of the top captains in competition.
In 1996, Spencer decided to try his hand at boat building. Drawing on his years of charter-boat experience, he combined both performance and function into elegant "Carolina Style" craftsmanship. The Spencer Yachts style also draws influence from other areas and has evolved into something unique.
The result of his efforts has been a series of progressively innovative, masterfully crafted sportsfishing yachts that Spencer Yachts is known for today. Paul is happily married to his high school sweetheart, Shelly, for 39 years and they have five children and 12 grandchildren.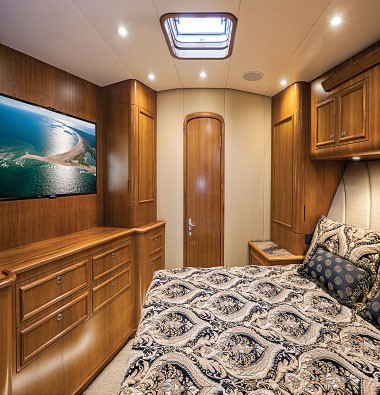 During this hectic Miami Boat Show schedule, I managed to track down Paul's son Daniel Spencer for some feedback on their new Spencer 62. Captain Daniel is also a skilled captain and mate and has won numerous tournaments throughout his ongoing fishing career.
He has worked in the family business since graduation from high school and enjoys the building process of each boat. Daniel is the "go-to" man representing Spencer Yachts in tournaments. He has two children with his wife, Rebecca.
Here is the text
of that interview:
Daniel, tell us about the Volvo IPS 1200's on the 62-footer
"These Volvo IPS power systems are new to the sport fishing industry. We did our first hull with Volvo IPS six years ago, which was a 43. I ran the 43 for a guy for several months prior to us selling it and it took some time to get used to the joy sticks–especially when backing down on a fish. I was used to working the throttles and steadying the wheel some. With the IPS pulling more from the center of the boat you learn to steer the boat with the joy stick."
How does the wake look on the Spencer hulls with the Volvo IPS power?
"I think they are actually a little bit cleaner. The props are smaller in diameter and they are also closer to the hull's center line which gives it cleaner lanes where the flat lines are supposed to be–especially when we're bait fishing. We also have the low speed by-pass which you can turn on to get rid of the exhaust bubbles and have them run out above the water line. Other times when you are steaming or booze cruising and you don't want the smell of diesel fume exhaust around the boat, you can turn the bypass on so the exhaust fumes are underwater and out behind the wake."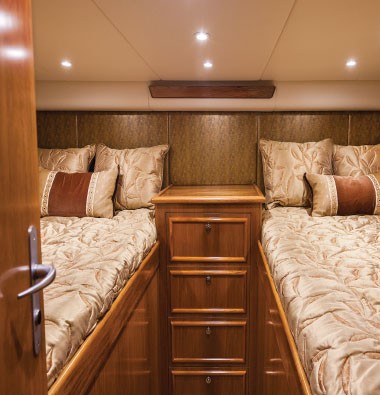 The 62' has a center mounted fighting chair for tackle up to 130-pound class. It also has a cockpit bench seat for crews to watch the trolling spread. What other sportfishing features were built into this hull?
"Depending on what you are doing, this cockpit was designed to handle the heavy tackle 130's from the chair and there is also plenty of room for stand-up style fishing. Depending on customer preference, when building these boats we design everything about the boat to meet their style of fishing."
The bridge is designed with the ladder on port side. Tell us about this design feature.
"Depending on your ladder application, many are built with the latch type that will take away space for a helm chair. Our boats tend to get a little bit narrower on the bridge as you get up top–I like the way it looks; the sleekness of the boat–versus many custom boats that do a 'shoe box' look on the bridge.
Our boats do the opposite and get narrower on the bridge. We don't have as big a bridge when compared to a production boat like a 61-foot Viking or a Hatteras."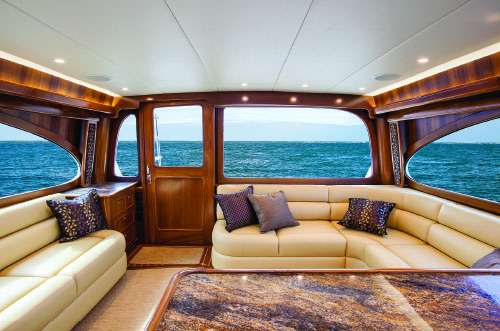 Thanks Daniel, for your time. I can hear engine in the background, so I know you are literally pushing off the docks for a sea trial.
"Thank you. One last thing on the Volvo IPS power systems, one of the biggest advantages is the amount of room we save in the engine room. The IPS are literally tucked under the mezzanine. On the 57', check out the virtual tour, where there once was an engine room is now another stateroom. Everybody wants more room out of their boat today, so we switched the fuel tanks and moved them up forward and moved the engines back.The pod is 33 percent more efficient. That Honda (Spencer 62') at 40 knots burns only 88 GPH at wide open throttle. You've got the capability to be cruising in the 31 to 34 knot range and burning from 50-60 GPH in a 60-foot, four-stateroom boat. So there really are a lot of different pluses in that power system. We can build these boats with a lot more range and a very fast cruise. If your weather window is short, you don't have to carry extra bladders or anything like that and can steam out at 30 knots the whole way there and you are burning less fuel, which everybody loves in this day and time."
After reading about the epic blue marlin fishing a couple hundred miles offshore Costa Rica last season, this is the boat I would want to live that dream. Having seen first-hand Spencer's fish raising ability, speed and overall sleek "Carolina" classic lines, Paul Spencer and family know how to build custom sport fishers for any gamefish in any ocean.
Learn more about Spencer Yachts at spenceryachtsinc.com. ■