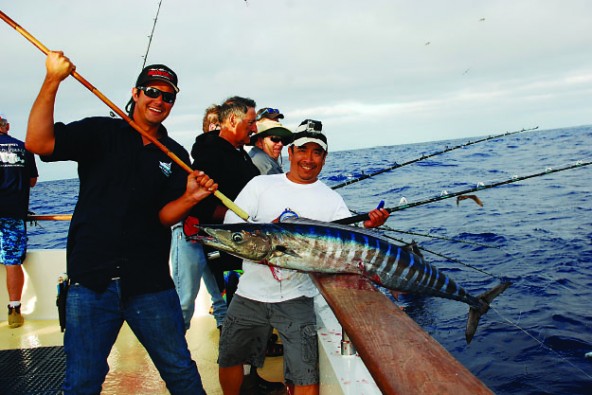 A possible to top the fishability, crew, sea worthiness and meals of that served up aboard the 116-foot Intrepid.
Pacific Coast Sportfishing magazine was invited to spend eight days this past summer aboard the Intrepid with the opportunity to fish a number of hot spots along Baja's majestic coastline. With Mexican limits of yellowtail and yellowfin tuna in the slammer, topping off the trip was a run out to Alijos Rocks to duel with razor-toothed wahoo.
Arriving at Point Loma Sportfishing during a busy summer morning found limited parking available, but fortunately being dropped off made for an easy transfer of tackle, gear and clothing. Loading was quick and professional with rods and tackle boxes placed within easy reach and luggage carried down into staterooms and a huge lunch spread out in the galley along with lots of extra munchies.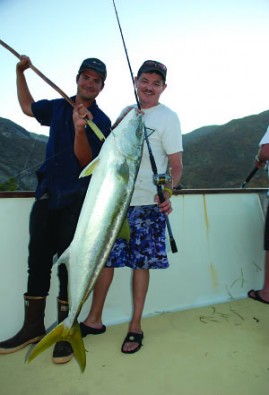 Captain Kevin Osborne pulled away from the docks and it was off to the bait receivers, where the deck crew selected enough cured sardines that would hopefully carry us through the entire trip. It took nearly 1.5 hours to load the bait, first into the huge on deck bait tanks and the remainder of hot sardines were placed down into two slammers.
Most of the crew of the Intrepid have been together for years and work as a team to provide the utmost in angling advice, tackle tips, gear preparation, casting, various fishing techniques and styles and five-star class meal presentations. When it comes to taking care of anglers, the crew goes above and beyond to offer the best in customer service.
Captain Osborne opted not to head north to fish the tuna schools off Southern California but instead headed the Intrepid south in hopes of reaching fishable waters by the next morning. It would be trolling through blue water with occasional stops on kelps and jig strikes. The captain wanted to be at The Ridge to tap its prolific waters for yellowtail by sundown.
After a dinner of prime rib, it was time for chartermaster David Tang to raffle off a wide selection of donated Okuma fishing gear, lures, bombs and other neat fishing accessories. Everyone on board received a tackle goodie bag, a tradition of fishing the Ray Jarvis Memorial Charter.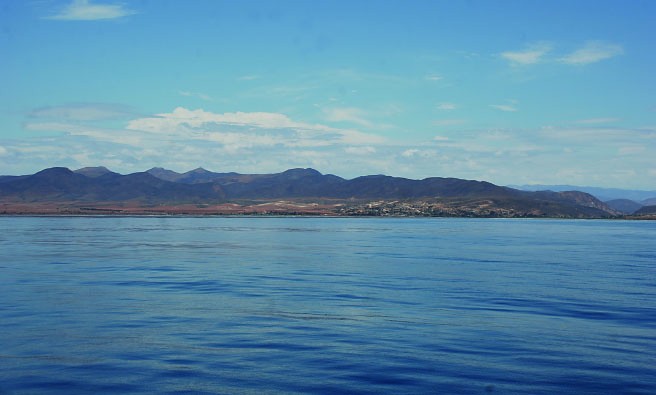 Anglers were geared up with a variety of tackle and most opted for newer, smaller reels, spooled with braided line, graphite composite rods for either fishing bait or casting iron jigs and a selection of Owner circle or J hooks.
After criss-crossing The Ridge, the scanning sonar showed big schools of yellows over rocks covered with strands of kelp. Anchoring up on the 38 Spot didn't produce very good fishing that evening and into the night, but Capt. Osborne was confident that these yellows would bite in the morning with more current.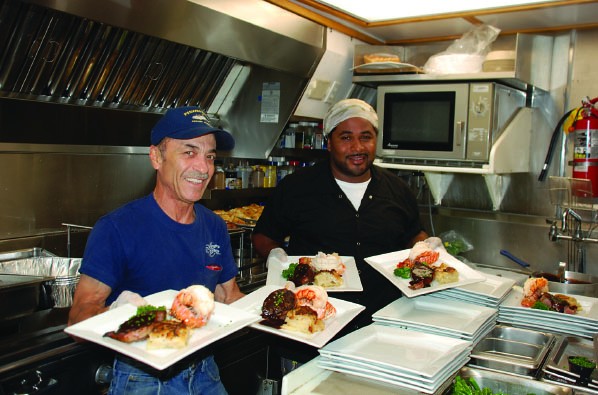 That next morning's bite was explosive from the start, with yellows in the 18- to 25-pound class coming over the rail for hours. The activity and blood in the water attracted brown sharks and they took their toll of yellows, usually just as an angler would call for a gaff. Unfortunately, many yellows were lost to sharks, but the bite still continued strong throughout the day with most every angler asking for additional numbered fish tags. You just could not make a cast and not hook into a yellowtail, but many were lost in the kelp.
With half a slammer filled with yellowtail and a few miscellaneous catches, Osborne made the call to leave The Ridge and make a straight run out to Alijos Rocks. Part of his rationale was to avoid the ominous winds of Hurricane Delores brewing up off mainland Mexico.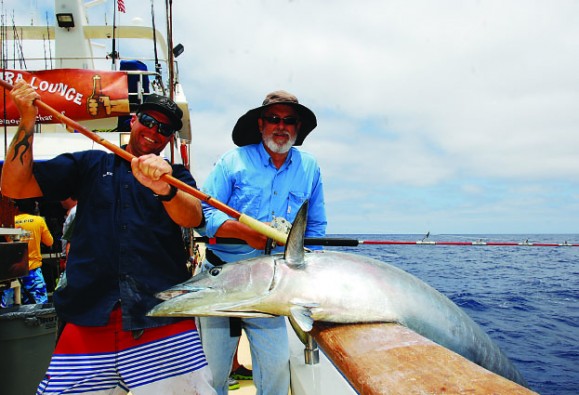 Despite a strong northwesterly blow, the Intrepid held its place under rough conditions using twin stabilizers and bulbous bow to make for a smoother ride. Noted the captain, "The installation of a bulbous bow nose and our stabilizers allow this vessel to prevent roll or pitch in rough weather. We are the only long-range sportboat that has these unique extra features. The bulbous breaks up the water off the bow like a diver does when he enters the water, offering up a smoother ride all the time. This boat rides so smoothly that we never hear of a glass of wine spilling in the salon."
Upon an early morning arrival at Alijos, conditions were ideal with just a small surge pushing up against the rocks, little wind to deal with and an abundance of boobie birds, shearwaters, pectorals and a pair of frigate birds, a good indicator that there was life here in abundance.
Wahoo Wake-Up
Wahoo are perhaps the jewel of the pelagics of the eastern Pacific, not only for offering up exciting fishing but also seared on a barbecue for a dinner feast. Here, some anglers tied on "bombs" in their hot color preference. Others opted for surface iron or rigged Owner 4/0 J hooks that were connected to braided line or Seaguar or Berkley ProSpec fluorocarbon by way of Sevenstrand wire. My tackle choice for wahoo was a Saltiga Lever Drag 30 matched to a Proteus composite graphite rod and fished with the new Daiwa J-Braid X line, Seagaur 40-pound leader material and an Owner 4/0 hook.
Prior to putting trolling gear in the water at Alijos, the captain and on-deck crew instructed anglers on what to do when hooked up to a racing wahoo. Collectively they said, "Once you get a hook-up just begin to grind on the reel. Don't bother to try and play a wahoo like you would a tuna or yellowtail as these fish will just plain eat you alive. The troll fish needs get on deck quickly so other anglers can cast bombs, iron or live baits. These critters have extremely sharp teeth and we don't want anyone standing near a wahoo when it comes over the rail so listen to a crew member and we don't want ever to see flip-flops or open toed shoes on deck."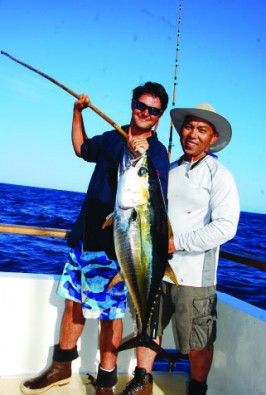 Added Osborne over the PA system, "Guys, we will start off our trolling rotation now. Those standing by should wait until I get the boat in position to make a cast with a 'bomb,' iron or live bait. You don't want to cast over a hooked trolled wahoo, and you also want to cast to the side of the boat where I last see them on the side-scanning sonar."
It didn't take long for the first wahoo to come aboard followed by my bait fish and a flurry of lost fish for a variety of reasons. According to Osborne, about half of the wahoo hooked end up chewing through wire or fluorocarbon, get unbuttoned from a bomb, iron or just twisting out of a trolled jig. These fish are considered the fastest in the eastern Pacific and can be brutal on tackle.
According to Capt. Jesus Campanioni, wahoo are very reactive to fishing pressure and will often back off the bite from time to time. When huge new schools arrive at Alijos Rocks, they may bite well on the first day, then it becomes a real pick bite and ends up with ones and two's before shutting off.
"Wahoo are not caught at night and really don't like dirty water," Campanioni noted. "I prefer to back hook a live bait and don't recommend chrome swivels or bright hooks, as wahoo have excellent eyesight and will shy away from anything that isn't to their selective liking." While it wasn't a wide open bite, by rotating anglers out of a trolling position who had already decked a coveted wahoo, the captain came close in his quest to have each angler deck one.
Weather Watch
With eyes set on the scanning sonar for orange/red marks, Osborne also watched updated weather reports on the fast approaching hurricane on the computer in the wheelhouse.
Hurricane Delores was on the move north at a sustained speed of 7.8 knots with winds already up past hurricane force.
"I don't want to get caught out here by this storm," offered up the captain. "You cannot outrun a hurricane and its powerful winds. We are going to have to cut our stay here at the rocks short, heading up and into safer waters as a precaution for all on board. After some 24 hours of running we will be tracking right up through the yellowfin tuna grounds that should offer up excellent fishing."
He then opted to head for the beach and fish his way up the coast with the first stop to be in the lee of Cedros Island. Anglers on board had plenty of yellowtail in the slammer so the main species targeted would be white seabass, halibut, calico bass and maybe a good chance of hooking into one of the homeguard yellowtail that this Baja island is so famous for.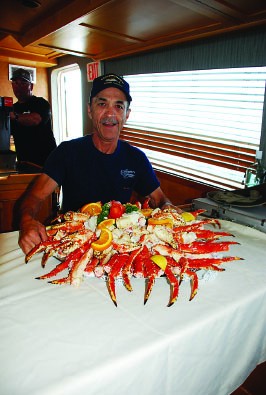 After couple of unsuccessful drifts, the Intrepid moved in closer to the island that allowed anglers on the bow to cast surface iron Tady jigs toward shore. Seals lurked in the chumline but stayed away from the bow section, which allowed a few lucky anglers to hook into huge mossbacks and land them. While only a few big yellows in the 40- to 45-pound class were landed, it sure made for an exciting late afternoon of angling as the sun set behind the rugged mountains of Isla Cedros. Topping off on the drift was a 45-pound white seabass that drew the attention of all on board.
During the run from Cedros to the tuna waters, anglers re-rigged for tuna and offshore pelagic fishing while the galley crew prepared lunch, a sashimi/sushi mid-afternoon snack and prepped steaks for dinner. Food served aboard the Intrepid is like dining in a five-star restaurant, with Chef Perry McMillian in charge of the kitchen, backed up by Hector Quintanar.
Yellowfin tuna had been pretty much scattered along the Baja coastline most all season long, with a better showing off the California coastline. Even though tuna fishing turned out to be red hot for the Intrepid, there were no big tuna caught and it would be too far of a run north to get into the bite in northern waters. The golden triangle area off Punta Colonet was holding some tuna, some 210 miles south of Point Loma, but our captain was heading to an area that showed warm water on the most recent Terrafin map. The San Diego-based spotter plane was not flying at the time so we relied upon on board equipment and the experience of the captains to find potentially good fishing water.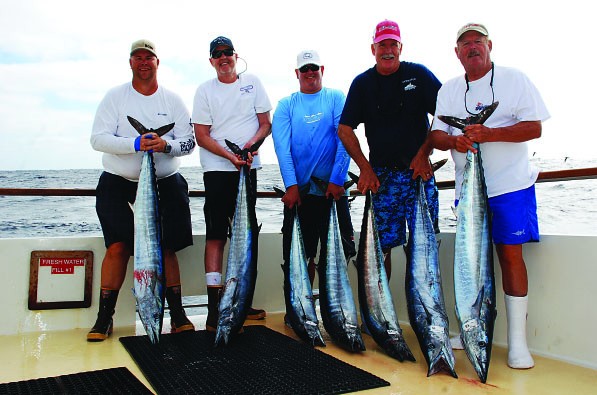 With calm seas and little wind in place, the hurricane moving off to the west, conditions were ideal for a good shot at yellowfin. Trolling rotations were again put in place with a selection of Marauders, cedar plugs and feathers jigs deployed across the stern. It didn't take long for the first tuna to jump on the cedar plug with a few bait fish to follow. The captain then began to box the area and we were soon joined by three other Cadillac sportboats in these tuna-rich waters. After a few more stops with increased numbers of 18- to 25-pound tuna being put down in the slammer, the ocean exploded with foaming tuna off the stern corner that followed a quadruple jig stop.
It was one of those wide open tuna bites where every bait was crushed and the feeding frenzy went on for nearly four hours. Tuna were jumping on Shimano poppers, light surface iron and sardines.
Colonet and Homeward Bound
Overnight, we continued north heading for the protected waters of Punta Colonet where there would be an opportunity to fish for white seabass. At sunrise, thick clouds of building Hurricane Delores could be seen over the San Telmo Valley of Baja, but the beachside fishing village just west of the rural town of Colonet was picturesque when reflected off the calm blue waters along the coast.
Our boat was approached by a local fishing panga and after an exchange of fishing options and a few scoops of live bait, we followed the Mexican skiff up the coast to what had been the hot spot for white seabass earlier in the morning. Seabass are a very fickle species and such was the case as none were hooked next to the kelp and only a few skinnies were decked.
The next move would be up the coast to finish off what had been a very productive eight-day summer fishing experience with a few drops for lingcod, rockfish and assorted bottom dwellers.
Calm seas prevailed that afternoon and into the early evening hours as we neared our home port of San Diego. Chef Perry was not quite done with his culinary delights for the closing afternoon snack and dinner. At cocktail hour he offered up a couple of plates of giant king crabs with all the trimmings and that was just for afternoon appetizers.
When it came time for everyone to come into the salon for dinner there was a rich aroma of broiling lobster and a tangy sauce that would top off a 12-ounce chunk of filet mignon. The crew, all dressed up in colorful shirts, served the meal as the galley crew stepped out to acknowledge a round of applause from the anglers.
The ETA of the Intrepid at the dock was set at 5:30 a.m. and upon anchoring up in San Diego Bay just after 2 a.m., word came of the now Tropical Storm Delores dumping a couple of inches of rain at the docks the prior afternoon with more expected for Sunday. Thankfully, Captain Osborne had kept the Intrepid and its 26 anglers and crew out of harm's way as a severe storm front pushed through that afternoon, making for miserable fishing conditions for tuna and yellowtail offshore. "Fishing on the Intrepid with this crew and group of fishermen is like fishing with family," answered David Tang, when asked by PCS to sum up the Ray Jarvis Memorial Charter. "We continue to thank Ray for bringing us together each year."
Intrepid Credentials
The specs and features on the deluxe long range sportfisher Intrepid are impressive to say the least. The vessel's length is 116 feet and boasts a 27-foot beam. Its fuel capacity is 20,000 gallons, providing up a 10,000 mile nautical mile range while powered by twin 750hp Caterpillar 3412 marine engines.
Hull construction is of corrosion-resistant steel base and there are five refrigerated/RSW fish holds to preserve catches made on long-range trips off Baja and beyond. In addition to superior design and construction, the Intrepid features a complete topside tackle center, 13 two-person staterooms with individually controlled air conditioning and direct TV/DVD flat screens with remote controls. And to top it all off, this sportfisher offers the lightest passenger loads among the entire long-range fleet.
For booking information and general details, log on to the Intrepid's website at www.fishintrepid.com or give General Manager Steve Hoffman a direct phone call at their Point Loma Sportfishing office by dialing (619) 224-4088.