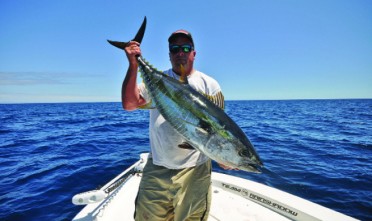 Did you know that if you plan an offshore fishing trip lasting more than one consecutive calendar day, and intend to keep bag limits for multiple days, you must file a multi-day fishing trip declaration form with the California Department of Fish and Wildlife before your trip?
A "Declaration for Multi-Day Fishing Trip" form may not be filed for a trip unless the trip is continuous and extends for a period of 12 hours or more on the first and last days of the trip. Also, no berthing or docking are permitted within five miles of the mainland shore during the trip. This is applicable to both private vessels and commercial passenger fishing vessels.
The form must be submitted to the nearest department office for any person aboard such boat to possess more than one bag limit of saltwater fin fish, abalone, lobster and rock scallops. If mailed, it MUST be received at least 48 hours prior to departure. The fee for filing a multi-day declaration is currently $5.92.
With this permit, anglers are allowed to keep full limits for each day of their trip. The only exception to this deals with the new bluefin tuna regulations. Anglers are allowed two fish per day with a maximum of six fish per trip on trips lasting three or more days.
Who is in Charge of MPA Education?
According to a recent press release, the California Department of Fish and Wildlife and California State Parks have teamed up to teach California students about the state's network of marine protected areas (MPAs). Through the wonders of technology, like live videoconferencing and online interactive lessons, thousands of students will now learn about California's MPAs. The lessons are intended to teach the important role that individual MPAs, and the MPA network as a whole, play in safeguarding California's marine resources.
The collaborative project is part of California State Park's PORTS (Parks Online Resources for Teachers and Students) program. A free distance learning program, PORTS helps schools meet academic content standards in the context of California State Parks. The program features 10 different state parks and reaches roughly 50,000 students each year.
While this educational outreach was part of the MLPA master plan and looks like a positive thing on the surface, my cynical side couldn't help but wonder exactly what they were teaching. Well, a quick Google search showed that the program, "Science of Habitat Protection and Restoration," was designed with the help of the Crystal Cove Alliance. For those unfamiliar with the CCA, they are one of the groups heavily involved with the Laguna Bluebelt Coalition, whose stated goal is to "allow all activities except the killing of marine life."
While this may sound like an anti-fishing sentiment, the good news is that the CCA has plans for us fishermen. According to their website, their solution would be to ban fishing but "create a partnership that would further conservation efforts as well as provide fishermen with new opportunities for sustainably keeping boats on the water with non-consumptive educational K-12 field trips." I'm not going to comment on this other than to say that sometimes I really wished I lived in another state.
Reporting Illegal Fishing Activity Just Got Easier
The California Department of Fish and Wildlife has made it easier to report illegal fishing activity. Along with their toll free number, they now have a texting option as well as an app.
If you witness a poaching or polluting incident or any fish and wildlife violation, or have information about such a violation, the CDFW recommends immediately reporting it. You can do that by calling the CalTIP number (888) 334-CALTIP (334-2258), 24 hours a day, seven days a week.
Another option is to submit anonymous tips to CDFW using tip411. This Internet-based tool from CitizenObserver.com enables the public to text message an anonymous tip to wildlife officers and lets the officers respond back creating an anonymous two-way conversation. Anyone with a cell phone may send an anonymous tip to CDFW by texting "CALTIP," followed by a space and the message, to 847411 (tip411).
Finally, you can download the free CALTIP smart phone application that operates similarly to tip411 by creating an anonymous two-way conversation with wildlife officers to report wildlife and pollution violations. The CALTIP App can be downloaded for free via the Google Play Store and iTunes App Store.
Be prepared to give the fullest possible account of the incident including the name, address, age and description of the suspect, vehicle description, direction of travel, license number, type of violation and when and where it occurred. You do not have to give your name.
Information from the call is relayed to the CDFW region where the offense occurred and an investigation is undertaken locally. If the information supplied by the caller results in an arrest, the caller becomes eligible for a reward. (Rewards up to $1,000 have been paid.) The case is then reviewed by a volunteer citizen's group known as the "CalTIP Rewards Committee." CalTIP rewards come entirely from donations, no state funds are used. ■