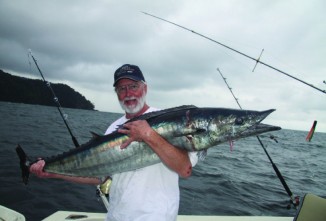 So the first wahoo are starting to be caught in our local waters. A Marauder (or similar style bait) seems to be a part of every sportboat's spread while trolling the tuna grounds. A few boats are having a shot a day, which is incredible considering we are in Southern California not Cabo San Lucas. The chances of catching a wahoo up here this year are as good as they will ever get!
Just as I am writing this, The Helena out Dana Wharf had to get out of the harbor due to the threat of a tsunami from the large earthquake down in Chile. They headed out and put some diving plugs in the water and caught a pair of wahoo in the morning and lost a third. That is crazy!
Likewise, Bill Seiler went out and caught himself one this morning. The great part about the bite this year is that these are really nice fish. His went 58.4 pounds.
I have fished wahoo in a few different locations around the world and it's funny that almost every place you target them, they are an inshore, deep-structure fish. So when we fish them in Panama, we are very close to shore—like a stone's throw away (in green water, by the way).
When you troll them in Hawaii, it's inshore, off some structure. In Mexico, the same seems to be the status quo. Wahoo are considered an inshore fish most places south of the border. Even when we fished them in Australia, they were tight to the reef. On Hurricane Bank, it's the same deal.
Once the fish get above Mag Bay, they seem to be offshore on floating structure. They are generally seen on kelps up this way, but remember last year? Wahoo stacked up somewhat inshore, off the hard bottom above Oceanside. The 300-foot (or so) hard bottom structure held them and for a week or two, and the guys were able to get a few. We need to remember this when targeting them as going way offshore is not the way to get one. Quite the opposite, actually.
If I were to go looking tomorrow (and I might), I would pull a few deep diving plugs like a Rapala, Yozuri or a Marauder. The plugs don't need to be far from the boat. Many of you that have fished long-range boats will remember many of the wahoo taken on the troll are taken right in the prop wash.
Another trick that worked like gangbusters for us in Panama was a very large size, natural cedar plug. For some reason, when trolled a little farther back, the wahoo loved them. Any shiny marlin lure—particularly the jet heads or bullet shapes—also seem to get bit real well. If you are willing to take a chance on losing some tackle, you can try to troll without the heavy cable and use some larger mono for leader. Just be prepared that you may lose tackle but will probably gain a few more bites. I would work high spots like the 267, 14 and the ledge from Laguna down to Oceanside in rockfish-style, hard bottom zones. Heck, you may catch your first SoCal wahoo!