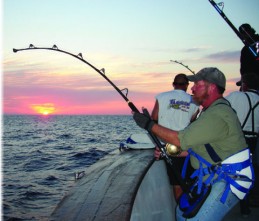 Your time aboard a long-range boat isn't like it is on a day boat. No, sir. First and best, you'll sleep in a stateroom with one or two other anglers, not in bunk-room racks with 30 or more.
When you awake to fish will be up to you. Chefs (they're not cooks) are up around 5 a.m. or earlier to prepare breakfast, served at your table over a period of an hour or two. You might have eggs cooked to order. Breakfast includes coffee, tea, milk, cereal (including cooked oatmeal), fruit, biscuits, toast, bacon or sausage, hash browns, pancakes, French toast or something like omelets or Eggs Benedict. It won't be coffee, a burrito and a hustle to the rail—unless they're biting hard, and you're in a hurry.
Three meals and two snacks are served each day—standard. If you get off the boat lighter than you got on, the chefs will be disappointed. However, they'll accommodate special diets or a request for fish or vegetables in place of meat. Soda pop, bottled water, coffee, tea and beer are handy, hot or cold. There may be a charge for beer or pop on the honor system: sign a sheet when you take one. These things are explained during the first passenger seminar, shortly after leaving port, when safety procedures and gear are also described.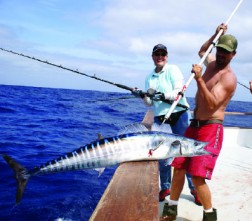 Preparation& Fun
Since you'll be fishing for days on a big comfortable boat, the pace is truly relaxed on the way to the first fishing grounds. However, if fishing is very good near port in summer or fall, the skipper may want to take a shot at fish just a few hours from the harbor.
Most often, there's time to prepare your tackle, tie wahoo leaders, service a reel (crew members can help), read a magazine or book, watch a movie in your stateroom or on the big screen in the galley, or just relax out of the wind on the upper deck. Long rangers are big, from 80 to 126 feet, so you won't be stepping on another angler every time you move. The reason long rangers spend so much time and effort on tackle and rigging is revealed in Toni Lo Presti's online remark from Royal Polaris in December of 2014:
"We can only hope tuna fishing can come remotely close to what we've had the last few days with these wahoo. On another happy note, we should make much better time in the coming days after lightening the load a hundred pounds or so from all the jigs we lost!"
Added to that was the capper, "Well worth it!"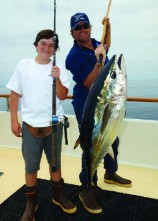 Formerly the tackle shop manager and now a co-owner at Fisherman's Landing, Doug Kern suggests anglers "… must first be acutely aware that each and every trip will present different conditions. As such, different tackle, rigging, equipment and fishing methods will be needed for each trip. … It's crucial for the long-range angler to gather as much quality and pertinent information as possible, and to plan tackle and other gear accordingly. A good long-range angler never forgets that each step leading up to a trip and the trip itself are supposed to be fun."
On the Boat
Having a wide stern and fewer anglers means less crowding at the rail (a must for dealing with multiple hookups on big fish), with room to move.
Jigcasting on long rangers is like it is on day boats: Do it forward of the bait tank, so you don't wind in bait fishermen on the square end. Jigcasting along the side, watch out for overhead deck lights when you swing (a lesson I learned the wrong way).
A welcome shower and fresh clothes at the end of a fishing day leads to a fancy dinner in a comfortable booth. Sleeping in your air-conditioned stateroom is heavenly for tuckered fishermen. The boat may move at night, allowing more fishing time in daylight. Waking up in a new place, where fishing possibilities start before dawn, is exciting.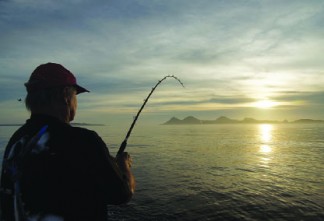 Cruising during the day, you'll be welcome in the wheelhouse when the skipper's not busy. Don't bother the skipper or crew when they have binoculars up to their eyes—they're on duty then. Otherwise, they have answers for fishing inquiries and will provide assistance if needed. Most skippers are cordial to passengers in the wheelhouse when they're just covering miles.
Long-range boats are long, wide fishing platforms carrying hundreds of scoops of live sardines and anchovies. Tackle, expert advice, a workshop, satellite phones, Wi-Fi and first aid are all available. Hundreds of gallons of fresh water are produced daily by reverse osmosis water-makers. Comfort and safety aboard are powerful reasons to fish long range.
It's a Seasonal Game
Fishing can be broadly categorized in two types: spring and summer. Summer fishing means rod-slamming action can be less than 30 miles or as much as 300 miles south of San Diego. From Colnett to Cedros and the San Benitos Islands and offshore, you may find very good fishing for yellowtail, yellowfin and bluefin tuna. The tuna in some bluefin schools may run well over a hundred pounds, bigeye as well. In 2015, 200-pound bluefin were both caught and speared near San Diego in July, so be prepared with some heavy gear. The summer game has changed.

Multi-day boats include long rangers and larger day boats and charters that stay out for up to a week or so. Two- to eight-day trips are offered in summer, with an occasional longer run. Generally speaking, that means they'll be making excursions of 50 to 450 miles from San Diego. Fall multi-day boats tap superior tuna fishing. Super yellowtail fishing and excellent white seabass and kelp bass fishing at the San Benitos/Cedros archipelago, The Ridge and many other spots mean a 100-pound yellowfin tuna or a 60-pound yellowtail are always possible. If tuna are biting outside, your trip may stay offshore, trolling from one school to the next.
No Experience Required
 "An absolute novice can do well," asserted Vagabond skipper Mike Lackey, "because the crew will help you. You don't even have to bring your own tackle. We have loaner tackle, too.
"Other anglers will help you, too. There's good camaraderie on the boats. Fishing is primary, but the whole experience is what it's about. Sightseeing, enjoying the variety of the passengers; we get everything from rocket scientists to hod carriers."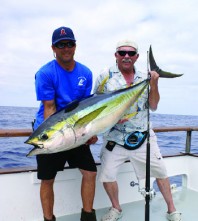 Skipper Buzz Brizendine came to San Diego from Oceanside many years ago and has been running his Prowler (Bill Poole's first purpose-built long ranger) for decades. Buzz has fished long range and has as much experience running one- and two-day trips as any man.
"I deal with lots of new anglers," he notes, "and for them I recommend monofilament line with a San Diego Knot to the hook. I use the John Collins Knot or the Albright to connect spectra to mono or fluorocarbon.
"I do like my anglers to use fluorocarbon, and when it's used with mono I go for the Uni to Uni Knot to connect them.
"To flyline with bait, I suggest 25- to 40-pound line and a sardine with a 2/0 to 4/0 hook. I use the nose hook for the most part."
All Day, All Night
You can fish at night. A particular Alijos Rocks trip was a whiz-banger for skipper Randy Toussaint and his Royal Star anglers.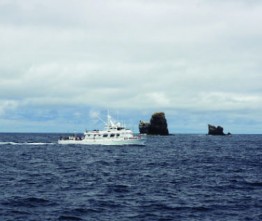 "You know the fishing has been good," noted Toussaint, "when 25- to 40-pound yellowtail are biting full speed at 0400, and only three passengers get up to try for them. With limited effort, we still landed 53 throughout the night. Tuna fishing was a little slower today, but the overall grade was better. We ended up with 65 for the day, and I would say 70 percent were 50 to 80 pounds."
That trip's best was a typical Alijos 100-pound yellowfin, a sardine fish. You can handle such on a 4/0 hook and 40-pound line, but 50- or 60-pound would be much better. You might need any gear from 25- to 100-pound strength on a given trip. Rods and reels used on short trips are as varied as the catch. If tuna were the only fish caught, an angler might bring a couple of rods and reels and have plenty of gear. But in spring/summer, kelp and reef species are included, and a major yellowtail bite could go off anytime, at the surface or 300 feet down.
Jig Fishing
You might need long and short jig sticks for 30- to 50-pound line class for surface and yoyo jigging. Use a trolling outfit of 60 to 100 pounds, and medium and heavy bait rigs in the 30- to 60-pound category. Most boats have plenty of rod space alongside the deckhouse and in rocket launchers forward of the tanks.
"I've seen a lot guys do well deep jigging yellowtail with a short rod of six or six and a half feet," said Andy Cates, Red Rooster III skipper. "It might take a few drifts, but you can be successful on yellowtail by using the yoyo method, especially when you're drifting over shallows.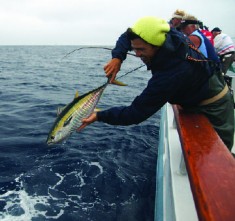 "You can use a longer rod of seven to nine feet with the surface iron. When fish are up breezing, not biting close, you can reach 'em with the skip jig and the surface jig. We also had this experience at Clipperton Atoll, on bigger tuna. … Rod length gets you a longer cast, and the action of the jig coming across the surface. Skip the jig for tuna, and wind it for the yellowtail, swimming the jig.
"A good skip or surface jig would be a Salas 7X or a Tady 45. The 7X is best for tuna; the 45 best for yellowtail. When you cast either, when it hits the surface, put it in gear fast.
"For yoyo jigging yellowtail, I like blue and white and scrambled eggs in the 6X Jr. size. For deep-jigging tuna I like chrome, chrome and blue jigs, and the glow in the dark Tady 15 or all-white jigs."
Fall & Winter Fishing
During the months from October to May, boats fish the waters from Alijos Rocks and The Ridge to Cabo San Lucas, the Revillagigedos archipelago and even Clipperton Atoll on trips of 10 to 20-plus days. The fish sought are the apex of the food chain, tuna of 80 pounds up to 300 or more, and wahoo. On some trips no tuna under 100 pounds are kept.
During warm water years, some winter fishing may be on the inside, off the Baja coast, but the usual area is near Clarion Island and on the Hurricane Bank, far southwest of Cabo San Lucas. Trolling is for wahoo, but early all tuna come on bait.
When you're fishing more than two days from San Diego, down below Cedros Island, you need stout gear. You can use 30-pound line as your lightest gear, but most of the fishing will call for at least 40-pound topshots or mainline. Many winter long rangers use 150- or 200-pound spectra mainline, topshots or leaders. Most of the fishing is with bait on hooks sized 4/0 to 8/0, but kite fishing and trolling also produce some fish, on bigger hooks.
I'm not kidding. Be prepared for tuna from 30 to 300 pounds or more. First-timers are well-advised to confer with the crew on the way south, so they're ready when the first stop for big boys comes up.
Burned into my own memory was a first stop when I mistakenly cast a sardine on 40-pound line into a spot of boiling tuna. They were 200 pounders, I learned shortly, as the last of that full reel whizzed out and snapped off at the spool's end. That sound and the look I got from the skipper standing next to me serve as permanent reminders of the need for proper gear.
Tip: Angles Fight Giant Yellowfin
"Use the angles, use the leverage against the big fish," says Accurate's Jack Nilsen as he plays a big one in my video, Driftfishing Big Tuna. "You can't beat the fish; the fish has to beat himself. You just have to be patient, let it happen, keep your adrenalin rush down and let the fish do what it does best, and that's fight for size.
"When the rod straightens out a little bit you get one or two turns on the reel handle. Get what you can. Let it load up and when it straightens out, get another one. You don't have to think about it, just get one at a time, that's plenty.
"Keep a bend in the rod, let the rod do what it's designed to do. It's a shock absorber."
Jack is a firm believer in saving just a little bit of your energy for the end of the fight, when you're gasping and the deckhand asks you to lift one more time so the prize can be gaffed. That's smart advice.
Bill Roecker owns FishingVideos.com, where he posts daily reports from the long-range fleet and other sources, and Oceanic Productions, which published his book At The Rail: Long Range Fishing. The book, Bill's Sportfishing Calendar and his Standup Fishing DVDs are for sale on his website and in most Southern California fishing stores.