HERE'S WHERE I WOULD GO TODAY
Join us for our 8th annual Pacific Coast Sportfishing Show February 17,18,19 OC Fair & Event Center….more info at www.sportfishingfestival.com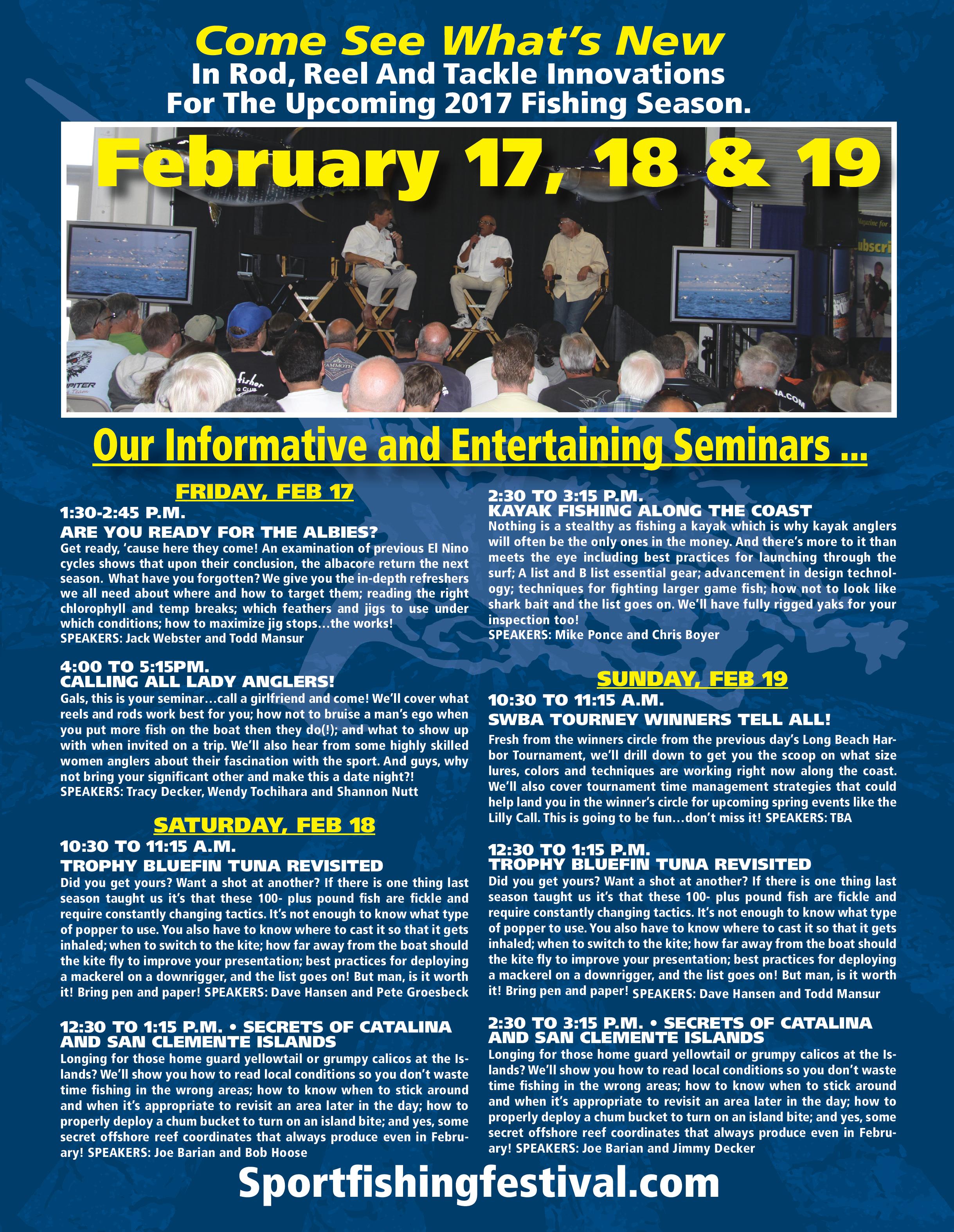 If your over at the island and you want to have a great time. There's a big a school of firecrack sized yellows in 80 feet of water. When I say big, I mean huge! We found them below Silver Canyon puddling on the surface. When you locate them, start chumming and get out your bass gear and go town! We were using live squid and chumming the whole time to keep that at the boat- man screams in the cockpit for solid a 45 minutes.
There's still plenty of big bluefin over 100 lbs on the bank. They're biting in the early morning (2AM to graylight), then the bite slows down throughout the day, usually picking back up in the evening. The hot ticket has been 80# fluoro leader with a 7/0 circle hook with a 4oz glow in the dark egg sinker.  Some guys are evening getting bit using heaver leader at night, and then dropping down to 50# fluoro during the day as the bite slows down. Lots of sharks reported and live squid has been the key!
Guys are getting limits of big legal lobsters on the front side of Catalina, especially in deeper water- 150 to 200 feet close to structure. One of the tricks to having a successful trip is having a lot of weight. Try securing a flat 5lb weight to the bottom of your Promar hoop net. This will help get it down faster. The extra weight will also prevent the current from moving it or carrying it away. Make sure you always have an extra 50 feet of rope with you than the depth your hooping at (Promar has these at your local tackle stores).. it might be the difference of not losing your gear. The best bait to use is oily fish- sardine, mackerel, salmon heads & tuna heads are great examples. To secure your bait, I suggest using- Scotty Bait Cages or Promar Crab/Lobster Bait Cages and they're seal proof. These items can make or break your trip if a seals get a hold of them! Remember… the first crawl can be one of your best sets, so get your traps out early, just before dark!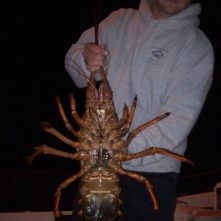 The yellowfin action is still hot. Over the weekend guys have been catching them near the 277 to the 267/279 in the 15 to 30 pound range. There's a nice chlorophyll break that runs from both spots. They've been finding them under bird schools, and stopping on the porpoise. The tuna are back on fin bait, and I've heard some guys are getting them on feathers & cedar plugs. For the fin bait I suggest using 15# or 20# fluoro, with #2 J hook, or #4 circle hook.
Guys, forget about football this weekend. The local YFT bite is epic. It has not been this good in years. Tuna -- literally --- everywhere! From the 14 mile bank to the 277 you will see them boiling every couple of miles. The ones on the 277 are 25 to 35 pounds and are more aggressive than the smaller ones closer to the 14. We made four stops before we found a more aggressive school under dolphin that we're doing the tuna flop. Throw a net full of bait right where the birds are and you have them under your boat for hours.
The bank has been holding the bigger grade bluefin lately if your willing to make the run. The good news, is there's not a lot of boat pressure on the bank and the tuna are now eating fin bait as well as live squid. They're also keyed in on the slack tide so make sure your in the zone before the tide changes. If the bite is slow, step down to 50lb flouro and smaller circle hook (even as small #1) can be very effective. Good luck and keep sending in the reports!
Lots of reports coming in today and yesterday of marlin being seen and baited along the 277.. not a whole lot of takers! There's also a nice temp break running along that area, and it's holding tuna as well.
Update! Another report- a marlin charging in on one of the teasers at the 267, during the slack tide but couldn't get him to stick. Water temps are 66 degrees and very clean.
There have been a lot of yellowfin stacked up on many of these local banks- 14, 267-279, 277 and 209 look for tern birds and kelp.. also there have been some nice models caught under the porpoise behind Catalina. Your best bet is using 20lb fluoro and #2 hooks and a lively dine. Don't forget to shut down the boat and start your drift while brailing bait to keep them around the boat.
There has also been reports of  40-60lbs bluefin on the East end of San Clemente Island. These fish are line shy, so use 25# fluoro, #2 hook.. they're keyed in on squid, so don't forget to tank up.