FLIR AX8 Thermal: Engine Room Monitoring
Boaters can gain an entirely new view of their vessel's mechanical systems with the FLIR AX8 marine thermal monitoring system. Combining thermal and visible cameras in a small, affordable package, the AX8 integrates with Raymarine MFDs to keep a watchful eye on such critical equipment as engines, exhaust manifolds and shaft bearings.
AX8 enables captains to spot problems before they lead to breakdowns and potentially costly repairs. For added safety, the AX8 features programmable alarms for detecting temperature anomalies that can indicate potential fire, water leaks or damaged hoses. The AX8 also features FLIR's exclusive MSX technology, which adds edges, text and other details of visible imagery to the thermal imagery, allowing boaters to easily interpret what they are looking at.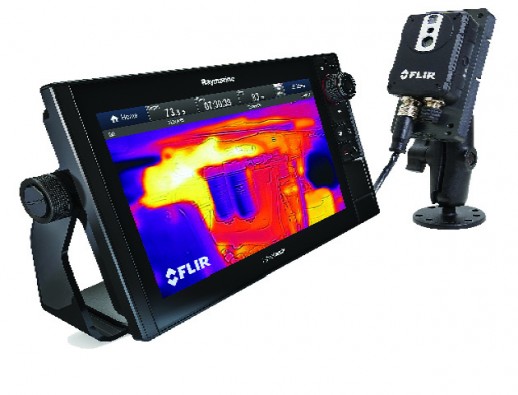 With the growth of AIS target tracking, keeping track of multiple AIS targets in crowded waterways can be a challenge even for the most experienced captains. With LightHouse Collision Avoidance tools, both expert and novice captains can now monitor potential dangerous crossing situations with easy-to-interpret, on-screen graphics, called target interception zones. These zones can also help commercial and first responder vessels track and rendezvous with designated AIS targets. In addition, the latest LightHouse II version brings improved AIS target icons and user interface improvements.
Boaters can now upgrade Raymarine LightHouse II MFDs and connected peripherals by downloading the latest upgrades directly from Raymarine using Wi-Fi. LightHouse II also can deliver software updates to Raymarine autopilots, sonars, instruments and radars, making it easier than ever to keep up-to-date with the latest FLIR and Raymarine technology.
LightHouse II Release 15 is available in the form of a free download on raymarine.com. To learn more about Raymarine LightHouse II visit www.flir.com/marine.
Offered at $1,199 MSRP, the AX8 Marine Thermal Monitoring System was made available in September.
Simrad NSO/NSS EVO2 Multifunction Navigators
Compatible with C-MAP MAX-N+
Global electronic chart provider C-MAP by Jeppesen has announced an available software update for Simrad Evo2 Multifunction Displays (MFDs), making them compatible with C-MAP MAX-N+ 2015 cartography. This update brings an exciting new charting option to users of the highly popular NSO/NSS EVO2 MFDs. The update is now available at no cost to owners of these advanced navigation systems.
The new compatibility with C-MAP MAX-N+ 2015 cartography brings a range of proven C-MAP 4D chart content and advanced features to these navigation systems. For example, avid saltwater anglers running compatible Simrad systems will benefit from Jeppesen's leading library of High-Resolution Bathymetric (HRB) bottom contour data, now included with MAX-N+ 2015 Local and Wide charts. These detailed contour charts help fishermen effectively target underwater pinnacles, ledges, depressions and other "structure" widely known to concentrate baitfish and predatory gamefish. An added feature allows users to select Custom Shaded Depths making it easy for boaters to distinguish different water areas, whether traveling or fishing.
In addition, Jeppesen's exclusive Sport Fishing Data provides anglers with a wealth of useful information on wrecks and reefs, including composition, depth/orientation and other details. The Sport Fishing Data in MAX-N+ 2015 also features color Fish ID photos, localized sportfishing rules and regulations and state angling records, putting important, regional knowledge at every angler's fingertips.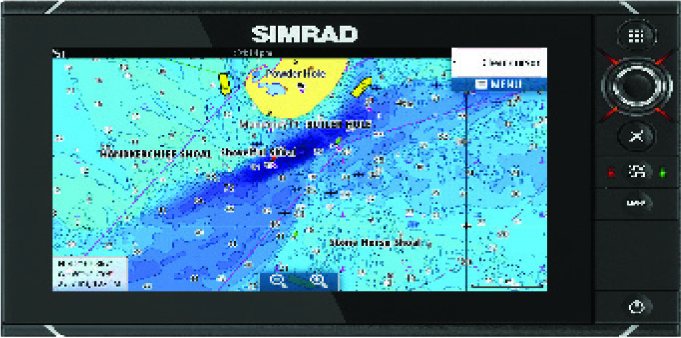 C-MAP MAX-N+ 2015 provides Simrad users with a wealth of important features developed for safe, efficient navigation, including a world-leading database of high-resolution satellite imagery for coastal areas. Jeppesen's Harbor and Approach Details, worldwide database of Marina/Port Plans and detailed aerial photos of harbor entrances, channels and inlets provide important local knowledge and enhanced situational awareness for cruisers and fishermen.
MAX-N+ 2015's Dynamic Raster Charts are another important feature for cruisers and all boaters who prefer the look of traditional paper nautical charts. Included with each MAX-N+ 2015 title, these charts combine a traditional appearance with the unique ability to "open up" and view information on a variety of important chart objects, such as NavAids or hazards.
In addition, Jeppesen's leading coverage of Bahamian waters—including special charts developed using trusted Bahamas Explorer and Wavey Line data—make C-MAP MAX-N+ 2015 a powerful cartography choice for the legions of sailors, cruisers and fishermen who visit this popular region.
Another key MAX-N+ 2015 feature, Dynamic Tides & Currents, has important applications for both boating and fishing. This information helps anglers time their fishing trips to take advantage of the best tidal currents over shoals, rips and points. This feature is also very important to cruisers to navigate safely through tidal channels or when entering tricky inlets or crossing dangerous bars.
C-MAP MAX-N+ 2015 Local or Wide charts can be purchased through Jeppesen dealers worldwide on pre-programmed micro SD cards, or online through the Navico GoFree website at www.gofreemarine.com.
MAX-N+ 2015 Wide charts provide extensive coverage areas and retail for $299. MAX-N+ 2015 Local charts provide large coverage for most fishing and boating applications for only $199.
To use new C-MAP MAX-N+ 2015 cartography, owners of Simrad NSO EVO2 MFDs must first update to Software Version 4.0. Fishermen and boaters who want to run C-MAP MAX-N+ 2015 charts in their Simrad NSS EVO2 MFDs need to obtain a free online update to Software Version 3.0 for their systems. Both are available through the Simrad website at www.simrad-yachting.com. ■